Is that name cheesy? I think so. I think I'll do better next time. Lol
Last week my boyfriend and I had the pleasure of eating at Gio's Chicken Amalfitano. This is the sister restaurant to my all time favorite (this side of the Atlantic) pizza place Antico. The Tag line for this restaurant is "Sorrento Lemon Chicken from Italy's Amalfi Coast". Sounds delicious right? I love the homey feel of Antico where you can see right into the pizza ovens and Gio's is the same as you can see right into the kitchen. This is another communal style dining restaurant so be prepared to sit next to some strangers (or new friends, however you want to spin it. lol).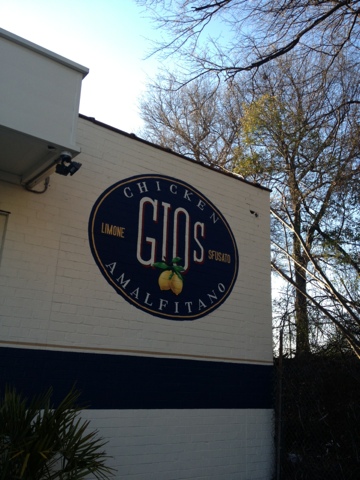 Gio's Chicken Amalfitano – 1099 Hemphill Ave Atlanta, GA
Each meal comes with a small salad. The dressing on this was amazing and for me to say that means something. It was very simple and olive oil based. I admit I'm not the biggest fan of vegetables as a form of energy consumption…ok I'm not a fan at all. Sue me. But I am an adult and it's my prerogative not to eat vegetables anymore. So there.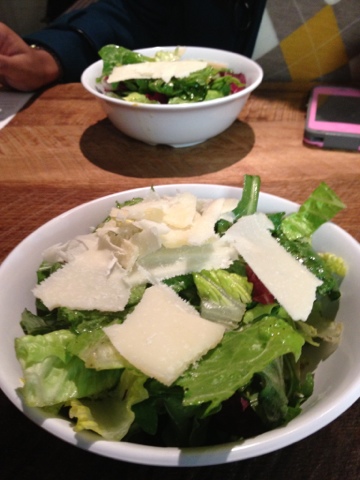 Salads at Gio's
Then came the main meal! I ordered the Sorrento Lemon which included lemons, olive oil, and rosemary and my boyfriend had the Arrancia di Capri. Check out the menu here. The sauce that was on mine was so good I wanted to stick my face in the bowl and wear it as a moisturizer. Yes that good. Both of our meals also came with wedge potatoes marinated in the same sauce and pieces of flatbread which taste exactly like the crusts on the pizzas at Antico next door. What I loved about this meal is you don't come away from the table feeling heavy and sluggish as you will with lots of southern chicken places in Atlanta.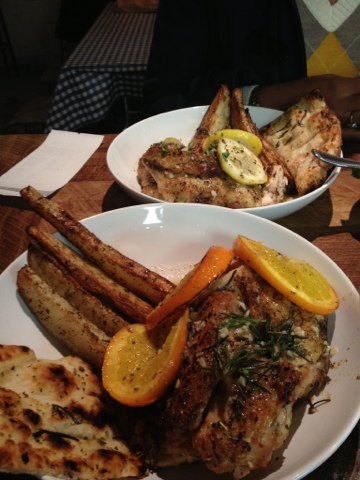 Gio's Chicken Amalfitano Sorrento Lemon (in back) and Arancia di Capri (front)
So I recommend you run here for a date or a quick lunch (they have some salads and soups in the fridge as well). I hear there are other restaurants in the works for Gio who owns Antico and Gio's so I will definitely be checking those out as well. Also….big thanks to my boyfriend for being my photographer….sometimes I dig into my food before I have a chance to take pictures 🙂