Before I get into any hardcore reviews I thought it would be helpful for you guys if you knew a little bit more about me and what my skin is like. I would say I have mostly oily skin with the areas outside of my t-zone being dry. I have been dealing with acne since I was 14 which is about 10 years now. I've seen a bunch of different dermatologists taken tons of topical and oral antibiotics, retinoids, creams, you name it. Now though my "problem area" is reduced mostly to my forehead. My cheek area is still prone to hyper pigmentation as well.
As for makeup goes I will cover that in a future post but I don't think I wear a heavy face at all. I don't try to completely cover up the hyper pigmentation; I go for a more opaque finish as opposed to a cakey look if that makes sense.
A few weeks ago I decided I was going to take back my skin from my sebaceous glands. Lol. So I went out and purchased a Clarisonic Mia in yellow from Sephora along with the Clarisonic Acne Clarifying Cleanser set. This came with the softer than the senitive acne Brush head. I will say upon first use my skin felt soooo super soft….and I also realized how inadequate washing your makeup off with a facial cleanser can be. The first time I used it I washed my face beforehand with the cleanser from the Clinique Acne Solutions trio (cleanser, toner, lotion) just to take some makeup off. My poor Clarisonic brush head was brown afterward….I was so surprised. Before I bought my Clarisonic Mia I researched blogs and YouTube and heard horror stories of how the Clarisonic broke everyone's face out horribly for the first few weeks. I haven't experienced this and I am on week three so fingers crossed that this doesn't happen.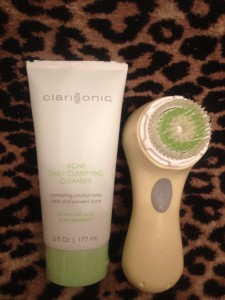 Clarisonic Mia with the Acne brush head
As you may know Clarisonics are not the cheapest things in the world. I opted for the Mia instead of the Mia 2 or full-sized original Clarisonic for the following reasons:
I did not need the variable speed of the Mia 2
I did not need the body brush head that comes with the original
Instead of actually washing my face twice last week I invested in the Burt's Bees Facial Cleansing Towelettes with White Tea Extract. I never really used makeup remover wipes prior to this so I just picked one that looked interesting on my last trip to Ulta. I would say these are ok although if I were to repurchase these I would probably buy the sensitive skin kind as they do sting my face the tiniest bit.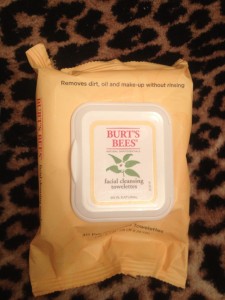 One product that I need to mention in this post is the Clinique Even Better Dark Spot Corrector. I would show a picture but I am currently out of it 🙁 ( I also usually buy my Clinique stuff when it's bonus time so you get a bunch of new samples to try at the same time!). I've used old school nadinola, the Ambi fade cream, and the Garnier dark spot corrector but all of those would break me out. I'm a huge Clinique fan because all of their products are dermatologist tested and allergy free and I have very sensitive skin. Love love love this product; it doesn't leave your face oily or clog up your pores. The only drawback is that this can be a little pricey.
So that's what I'm doing with my face as of right now. Trying to keep it simple to see how it goes. If there's any interest in this I may do periodic picture updates of my face with no makeup (gasp).

Posted with Blogsy