If you know me you know that I have not set foot in a nail salon in a long time. Why? Because I've become pretty darn good at doing my nails and manicures myself, not to mention some of the sanitary concerns that arise with some salons. This spring and summer I've ventured into doing my own pedicures as well with the help of some of my favorite Avon products. I bought these a few months ago and I'm finally getting around to writing a review on them. I'll walk you through how I do this below!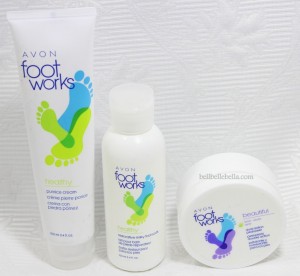 Avon Footworks
Before you begin you want to make sure all polish is off your toes so that at the end of the pedicure you'll be able to paint them your favorite color!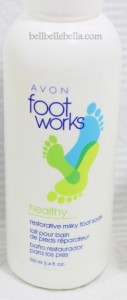 Avon Foot Works Restorative Milky Foot Soak

1. Give your Feet some love with Avon Foot Works Restorative Milky Foot Soak
This is my favorite part by far. I get a large bowl, (if you have a foot spa you can definitely use that) set it in my tub, and fill it with as warm as you can stand it water. You want the water hot enough so while it cools down it is still comfortable and not cold as your feet soak. I sit on the edge of the tub and let my feet rest in the bowl; use a towel under your bum for some padding! I don't really measure this part out; but the suggested dosage is half a tablespoon per gallon of water.
After soaking for around 15 minutes get your favorite pumice stone or loofah or exfoliating tool and apply a quarter sized amount of this Pumice Cream to it. Begin scrubbing the bottom of your foot. This will help loosen up and remove dead skin and calluses that have built up over the weeks. This part always makes me laugh uncontrollably so it's good that I now do it in the privacy of my own home haha! After I finish with the Pumice Cream I take this time to remove cuticles and shape my toenails to prep them for polish.
3. Prepare your toes for polish!
Once your feet are completely dry slather your favorite thick moisturizing lotion all over your feet and marvel at how smooth they are! I then like to swipe Zoya's Remove+ all over my nail beds as a primer step to remove any oils and ensure my polish lasts for weeks. Then you're free to use any base coat, apply your nail color, and then top coat and your feet are ready to be shown off!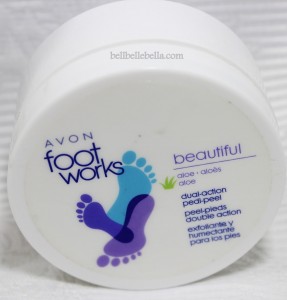 Avon Foot Works Dual Action Pedi-Peel
4. Maintain your baby soft feet with Foot Works Dual Action Pedi-Peel
I typically do a full on pedi every 3 weeks but in between I use these Pedi-Peels to get rid of any pesky dry skin that may arise. These are medicated cotton pads that gently exfoliate skin as they dry.
Check out the Avon Foot Works Collection here. Everything is so affordable!
So that's how I maintain my pedicures! I hope this was helpful and if you have any tricks please feel free to leave them below!