Remember how I said I wanted to start experimenting with color? Yes it is time to leave the nudes behind for a while and explore my inner "rebel" and out comes the Too Faced Pretty Rebel Palette!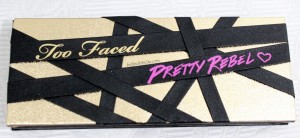 Too Faced Pretty Rebel Palette
"Unleash your inner rebel and break the beauty rules! Femininity mixed with edgy street-style is modern and sexy". The bondage packaging is so cute and funky at the same time. It also comes with a small little booklet with three looks you can achieve with these eye shadows which is a perfect start if you're like me and not used to wearing colors on your eyes. I think these are my first Too Faced shadows as shocking as that may be. I first saw this palette on the homepage of Sephora and I knew it had to be mine after seeing three shadows….can you guess which ones?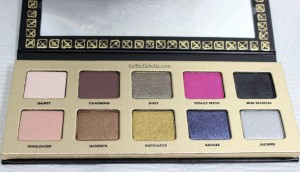 Too Faced Pretty Rebel Palette
I absolutely had to have this after seeing Totally Fetch (Mean Girls!), Badass, and Girly. I thought to myself self…if you're going to start wearing colors then you NEED this. I admit Girly has been my favorite so far in the week I've had this palette especially paired with MAC's Brown Script in the crease; amazing! The shades on the left hand side are also amazing for daytime and my favorite over there has been Ringleader. I use it on top of the Maybelline Color Tattoo in Inked in Pink for a subtle work look.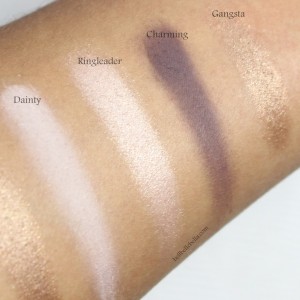 Too Faced Pretty Rebel Palette
The swatches from the tamer side of the palette. Appropriate for use for day or night! You can create subtle ladylike looks with these colors or jazz them up with the colors below:
Too Faced Pretty Rebel Palette
Look at Girly. It's like a funky Greenish brown with a subtle hint of blue in it. Love. All of these shadows are extremely pigmented so there's no need to pack and pack on the color to get the desired effect. Instigator is a gold even the Egyptians would be proud of. Totally Fetch is less intimidating swatched and on the eye than on the pan and is a nice pop of color on brown eyes. Badass is like the queen of sparkly dark blue shadows, it gives me the shivers just looking at it. Miss Sparkles is appropriately named; look at how my camera picked up the glitter! And Jailbird is so much silvery goodness. It looks like a cream shadow with how pigmented the color is in this one.
Take your look to the next level with this palette! I'll be wearing these on my Instagram as well as in some upcoming YouTube videos. In the meantime….run don't walk to go get this! Get it from Sephora
here
. What are some of your must have pops of color for Fall?