It's Beauty Week at Saks! What does that mean you ask? Why that means there are tons of gifts with purchase, free events, education, portraits, master makeup artists and more. I had the pleasure of heading to my local Saks Fifth Avenue here in Atlanta to scope out the all the beauty goodness they have in store for everyone from September 26, 2013 to October 5, 2013.
Your first thought is probably "Saks is WAY too expensive for me so I won't be heading in store". But au contraire! Saks also carries additional affordable high end lines that you are probably familiar with such as NARS, Clinique, and Laura Mercier. Also of note; the makeup artists and skincare experts are AMAZINGLY knowledgeable about the brands they represent on another caliber that you may not find at your traditional department store. Everyone I encountered knew the history of their respective lines back and forth and up and down; there are no amateurs at Saks. I had the pleasure of getting a mini makeover from Robert and Titus at the Dior booth (way bigger than a counter) and they blew me away. Head over to my
instagram
to see the photos of the makeup and what they used.
What's nice about Saks is that their individual makeup counters have great lighting and are beautifully decorated so you feel super chic and glam while getting your makeup done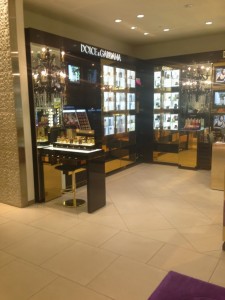 Dolce & Gabanna at Saks Atlanta
If that's not enough then check out the gift bag you receive with any $100 purchase in beauty and fragrance: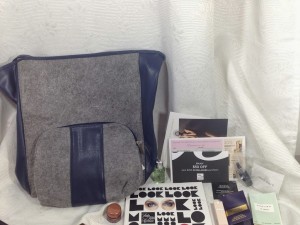 The bag comes in a choice of grey, white, and a camel color (the mini cosmetics bag is thrown in with a $150 purchase). Inside you have a certificate for $50 off a purchase of sunglasses, a sample of Kiehl's Powerful Wrinkle Reducing Cream, Tom Ford Violet Blonde EDP, Lancome Genifique, YSL Forever Youth Liberator, and more.
If that's still not enough….you also get gifts with purchase from the individual brands!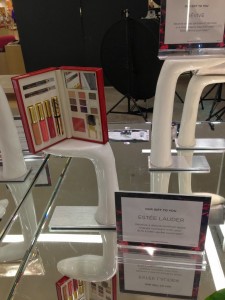 Gift With Purchase – Estee Lauder Saks Beauty Week
I'm totally lusting after the GWP from Estee Lauder. How cute is that palette?!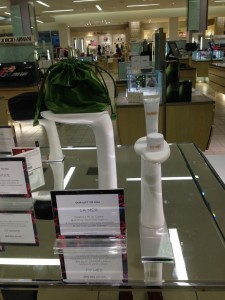 Gift with Purchase from La Mer Saks Beauty Week
At Saks you can really spend as little or as much as your heart desires. Here are some fun splurges we got to sample: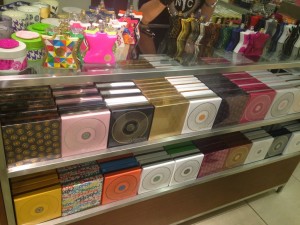 Bond No. 9 New York
I am absolutely in love with The Scent of Peace perfume. This line was created as a way to uplift New Yorker's after 9/11 and there's a fragrance for lots of different areas of New York; Wall Street, Bleecker Street, Little Italy, Gramercy Park, and more. I have samples of Madison Square Park, Central Park South, Nuits de Noho, and The Scent of Peace. It's going to be so hard choosing which ones to wear!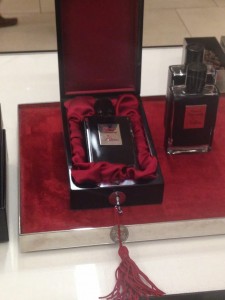 Bamboo Harmony by Kilian
Check out the presentation of this EDP from Kilian in Bamboo Harmony. A splurge gift for that special someone this Holiday season perhaps?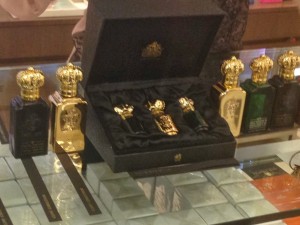 Clive Christian
This brand has the distinction of being labeled "The World's Most Expensive Perfume". The brand specialist told us that this scent was a one time favorite of Queen Victoria. Clive Christian gifted Prince William and Duchess Kate with a set of No. 1 perfumes that were made out of crystal and gold and diamond encrusted. Costing well into the hundreds of thousands of dollars. For around $300 and up you too can smell like royalty!
If there's not a Saks near you don't worry; the gift bags also apply to online beauty and fragrance purchases as well. Don't forget to check out your local Saks 9/26 – 10/5 to take part in all the fun!