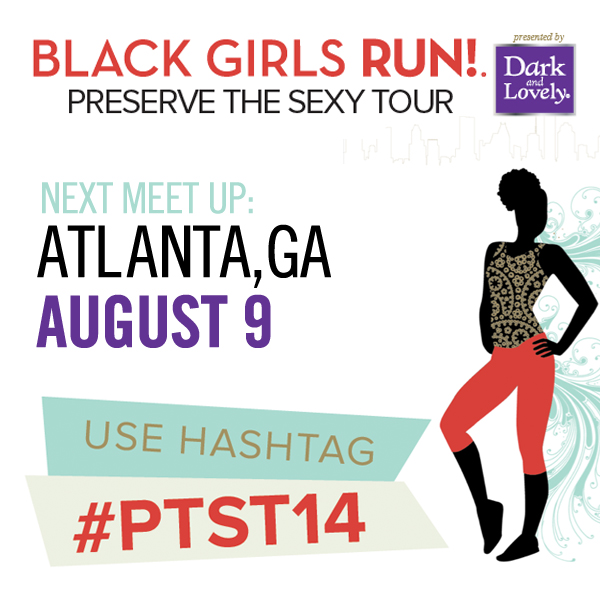 Hey y'all! I've been really into running lately and guess what event just hopped into my inbox so I thought I'd share it with you local Atlanta folks if any of you are interested. We will get back to the beauty posts and all that good stuff very soon – I promise! 🙂
Dark and Lovely, the #1 Hair Care Brand for Women of Color in the world, has teamed up with Black Girls RUN!, as their exclusive beauty sponsor for 2014. The 2014 Partnership includes the signature Preserve the Sexy Tour, which is hitting the Atlanta on Saturday, August 9th.
The Black Girls RUN! Preserve the Sexy Tour Presented by Dark and Lovely is a conference open to runners of all levels, from beginners to veterans. The tour will feature fun, informative sessions including coaching on running anatomy, form, and muscle assessments from experts, and concludes with a celebratory fitness party! Dark and Lovely will also be offering product sampling and raffles.
Dark and Lovely and Black Girls RUN! are inspired to help African American women reach their fitness goals – to look and feel amazing! They are passionate about promoting health, fitness and beauty.
WHEN: Saturday, August 9th, 8:30am – 12:30pm
WHERE:   Marriott Marquis(Downtown) 265 Peachtree Center Avenue NE Atlanta, GA 30303
WHAT TO WEAR AND BRING:
Wear comfortable workout or running clothes, along with running shoes. Bring a yoga mat, small towel, water bottle and a foam roller (If you do NOT have a foam roller, they are available for purchase in the registration process).
TICKETS: For tickets and event registration visit www.blackgirlsrun.com