The Fall 2013 collections are beginning to arrive in stores! The Maybelline Fall 2013 collection contains the foundations below, Color Tattoo Pigments, Big Eyes Mascara, eyeliners, and nail polishes (check my instagram for swatches of those!).
So I've never actually tried a foundation in stick form. The ones I've seen in the past have been from higher end brands and I was hesitant to spend all that money on a foundation and not like it so enter Maybelline Fit Me! Shine Free Stick Foundation in #340 Cappuccino. At just under $10 I had to try this of course. The foundation claims to contain an anti-shine core (the white in the center). Also of note, these are not secured in any way and a lot of them at Wal-Mart where I got this from were swatched; if the core is not completely beige then someone has been testing it.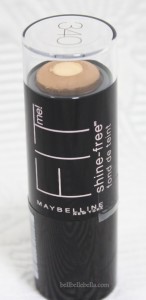 Maybelline Fit Me Stick Foundation in 340 Cappuccino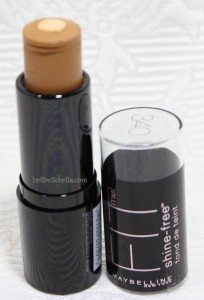 Maybelline Fit Me Stick Foundation in 340 Cappuccino
For a frame of reference my most often used summer foundation colors are as follows: NARS Sheer Glow Foundation in Macao, Revlon Colorstay Foundation in #400 Caramel. I found that #340 Cappuccino was slightly too light for my summer skin tone but that was nothing a tiny amount of bronzer all over my face couldn't fix. I knew when I was buying this in the store that the color above was too dark and the color below was too light. Here's a tip for shopping for drugstore foundations when testers are not available: either take your current foundation in your purse with you and shade compare or if you have a perfect match in another drugstore brand grab it off the shelf and compare it to the shade you want to buy.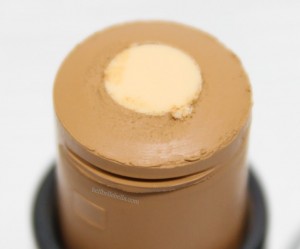 Maybelline Fit Me Stick Foundation in 340 Cappuccino
This foundation has one of the most matte finishes I've come across which is a Godsend for me because my face is in oil overdrive in the summer. It glides on very easily but I'll be honest – the stick form concerns me as I have acne prone skin but so far I haven't noticed any adverse effects.
While the foundation did apply completely matte it did not stay that way all day without touch up from my Mally Beauty Face Defender. I don't hold any product accountable for not holding up to the Shine Free claim because my skin is like exceptionally oily so don't let that deter you :). Here's a picture of me waring the foundation on my Test Saturday from a week ago (I'm also wearing one of Maybelline's new Color Show Polka Dot polishes!).