If you follow me on Twitter and Instagram you know that I was in Vegas for Memorial Day weekend! I wanted to bring back my food posts so I thought I'd share with you my two favorite meals from the weekend. Honestly I mean to do food posts…but 90% I dig into the food and don't come up for air until the food is almost done…which means no pictures. But I will get better!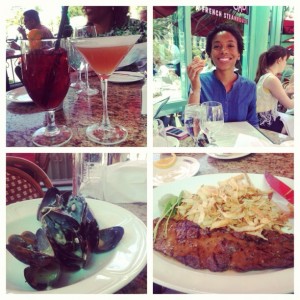 Mon Ami Gabi Paris Las Vegas
My first favorite was the food at Mon Ami Gabi located at the Paris Las Vegas Resort and Casino. I'm a stickler for excellent French food and this place definitely delivered. From the extra crusty baguette (which I am savoring in the picture) to the amazing cocktails I was just in heaven. We had Mussles Mariniere for an appetizer and I went with the classic Steak Frites for my main meal. The steak pictured below is the Steak au Poivre and the sauce. Was. Amazing. The frites were almost kind of potato chip like in texture and were also delicious when dipped in mayo and ketchup. The drinks pictured are the Frangria (french style sangria) and the Paris Romance.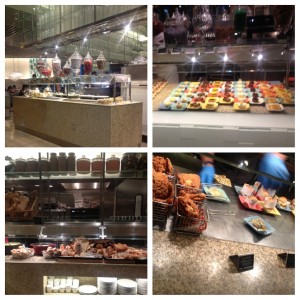 Bacchanal Buffet Caesar's Palace Las Vegas
Another night we visited Bacchanal Buffet inside Caesar's Palace. Prior to this visit my favorite buffet was the one inside of the Bellagio. Bacchanal had so much food for their special holiday weekend menu it was ridiculous. This is not your typical small town buffet; if you've never been to a Vegas buffet you are missing out! The food is on par and in some cases even better than some of my favorite stand alone restaurants.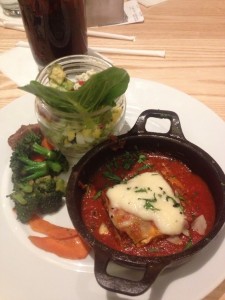 Bacchanal Buffet Caesar's Palace Las Vegas
I was pleased with the presentation of the food for a buffet. The summer cobb salad above in a mini mason jar, the lasagna in a mini cast iron skillet, the fish and sweat potato fries in mini deep fry baskets; all so cute! I ate and ate and then ate some more because of the selection of desserts; mochi, sorbet, candy, chocolate covered strawberries with pop rocks, macarons, cotton candy, creme brulee..etc etc. I'm drooling thinking about this place all over again.
What are some of your favorite places to eat in Las Vegas?