Today I'm sharing 5 of my favorite local places to eat in Atlanta! Try them out when you get a chance; you won't be disappointed.
Verde Address: 1426 Dresden Drive Atlanta, GA 30319
I'm a sucker for good tacos and frozen margaritas and this place does both exceptionally well. They always have a funky drink or taco of the day going on which is great – last weeks was Chicken Parmesan. My favorites are the buffalo and fried chicken tacos and the frozen peach margarita. For sides I love their plantains and their tater tots are great as well. Their queso is awesome as well so be sure to check that out while you're waiting for your tacos to be ready.
Antico 1093 Hemphill Ave Atlanta, Georgia 30318
I said this last week and I will say it again. You have got to visit this place if you're in the city. Go. Now. And another awesome thing is its BYOB if you want to save a little money. They also have coke products and beer and wine for sale as well if you forget. The Margherita and the Diavola are my favorites.
Victory Sandwich Bar 280 Elizabeth St. NE, Ste A-111 Atlanta, GA 30307-1967
Be prepared to eat 2…or 3…or 4 of their sandwiches. I'm partial to the mile high club and the Castro. I like putting the housemade chips inside my sandwich…but they are delicious on their own as well. Two of my favorite drinks here are the dark and stormy…….and the jack and coke slushie. You're welcome.
Barcelona Wine Bar 240 N. Highland Avenue Atlanta, GA 30307
I wasn't going to put any pictures in this post…..but….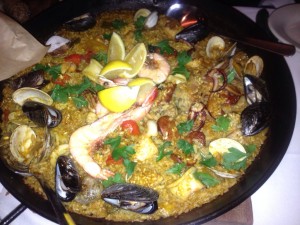 Yes. It's as delicious as it looks. So is the Sangria. And everything else on the menu. You should go there. Now.
Serpas True Food 659 Auburn Ave. #501, Studioplex, Atlanta, GA 30312
I've been to Serpas for brunch (which is my favorite meal of the day….or weekend) more times than I can count. Dinner more times than I can count. Patty and a Pint night Tuesdays – which is today! is a great time to see what Serpas has to offer. Perfectly cooked burger, fries, and a nice selection of beer will be waiting for you. What's great about Serpas is that the menu is dynamic and changes with what's seasonally available. So one month the Buttermilk Pancakes for brunch may be blueberry and at another time of the year they are peach. What's even better is that although the menu changes from time to time I have yet to have a dish I didn't like from here. My favorites on the brunch menu (and these stay pretty consistent) are the Lemon Crab Fritters and the beignets.

Posted with Blogsy