Here are some things I just could not get enough of in March!
From the March 2013 Birchbox Whish Shave Crave Shaving Cream: This made my legs feel unbelievable soft even days after using it. I admit its rare you will ever see me use a shaving cream in the shower but I just had to try it since it smelled so nice. I especially love the fact that it does not over lather on your legs; it's more of like a lotion. The blueberry scent is nice to wake up to in the mornings. I'm still debating on purchasing the full size since it's not exactly something I can't live without but I sure am loving this sample! For a picture and link to where you can see this product check out my previous Birchbox post here. If you would like to sign up for Birchbox click here.
Sigma Beauty F80 Flat Top Kabuki Brush: (From this previous post) I have been so digging this brush for the flawless finish and build-able coverage it gives. I don't think I could go back to using regular foundation brush if I tried. It's so soft and doesn't leave my face streaky and it cleans like a dream and does not lose bristles (!). I can't wait to get my hands on more Sigma Beauty brushes…once my No Buy April is over of course.
Kinky Curly Curling Custard: This product saved me when I had no idea what to do after cutting off all my hair. It has a nice but not crunchy hold and it also offers a nice sheen to my 'do. I'm not a huge fan of the snot like texture (sorry guys) but I got over that when I saw the results. It's definitely recommended that you use this on dripping wet hair and a little goes a looong way. I've read that this doesn't mix too well with some products (read: white residue in hair) so to be safe I use the Kinky Curly Knot Today leave in underneath it. I'm currently on the quest for the perfect gel and I have five contenders. Be on the lookout for that future post!
Pixi Nail Polish in Evening Emerald from the March 2013 Glossybox: when I first picked up this shade I thought it was more aquamarine than emerald. And then I applied it and fell in love. It did not chip on me until day four when I was applying the previously mentioned gel and then the tips were chip city. Weird. Since emerald is the color of the year I have been meaning to get my hands on a decent emerald nail polish so I was happy to have this in my box this month. I haven't done a post on my Glossybox yet which I was pretty impressed with so stay tuned.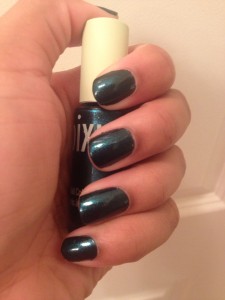 Pixi Polish in Evening Emerald
Dress Up Boutique: this place is quickly becoming my favorite store for spring. The dresses are so cute and the price points are amazing; an average dress with run around $30-$40. There are stores all over north Georgia but I had the chance to attend the grand opening of their Brookhaven location; see the overdose of awesome picture below. They are also going to be opening a Perimeter store so be obscure to check that out….and make sure you leave some dresses for me!
Dress Up Boutique Grand Opening
Pirate's Booty Aged White Cheddar Rice Baked and Corn Puffs: I randomly licked these up at the grocery store and fell in instant passionate love. So much so that I had to buy the biggest bag I could even find so that I will not run out for the foreseeable future. Think of these as adult healthier versions of Cheetos but with a better quality cheese and a different crunch. They almost kind of melt in your mouth with a slight crunch at the end and they don't turn your fingers obnoxiously orange. I can't wait to try more flavors but for now I am more than content with my giant bag of white cheddar.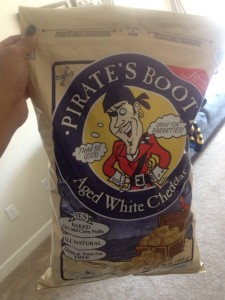 So that's what I loved (and still do) in March. What were some of your favorite things last month?