I've been meaning to do this post for a while now ( I've had this for a few weeks) and here it is: the March 2013 Glossybox. This subscription is similar to Birchbox but this one is $21 a month and if you're international you're in luck because they offer Glossybox subscriptions to other parts of the world as well. I've used 3/5 of the products in the box and I don't plan on using one at all so I think that's pretty good utilization.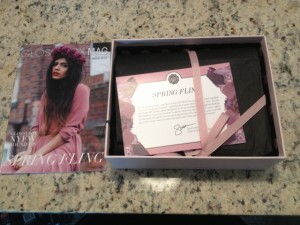 March 2013 Glossybox
March's theme is "Spring Fling" that centers around "renewing your look for Spring".The packaging and the magazine for Glossybox are amazing. The magazine for this one is 26 pages filled with beauty trends popular in America as well as popular items from the international Glossybox offices. The mag and the packaging really impressed me for a monthly subscription box. The only thing I will say is that their boxes usually ship the last two weeks of the month so to me it's a little weird calling this a March box when April was about a week and a half away. So lets get into the contents!
March 2013 Glossybox
Modelco Cheek and Lip Tint: This was a full size item and it retails for $24 which already means I'm in the money for this month. From what I can tell this is an Australian company so it's nice to try new things. But I'll be honest – I did not like this and I may have realized I'm not a stain kind of girl. I know it's a stain but its a super stain – my fingers were red for HOURS after I applied this. I scrubbed, used makeup remover, tried to wipe it off, nothing. This was a huge turn off to me because if its this hard to get off my hand and lips what will it look like on my cheeks!? I did manage to get it on my lips and the color was pretty enough but overall….meh.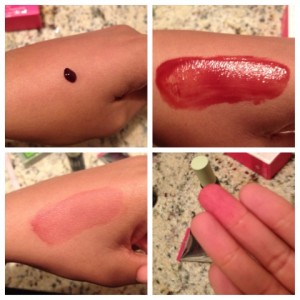 Modelco Cheek & Lip Tint
Prestiche Green Machine Essential Oil Bar Soap: This soap is full of awesome ingredients like olive oil, coconut oil, and grapeseed oil. I've used this a bunch of times in the shower and the soap has yet to dry out. This soap kind of drags when you rub it over your skin because of the many different oils in the bar. That may be off putting but it certainly leaves your skin hydrated when you step out the shower and towel off which is nice. We also got a $40 gift certificate for the Prestiche website which excludes shipping and taxes. A bar of soap is $17.99 so that can get you just about two soaps and if shipping is reasonable I may be purchasing a few items from their website.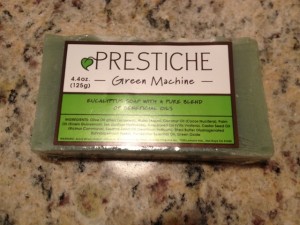 Prestiche Green Machine
Koh Gen Doh Cosmetics Oriental Plants Emollient Cream: The mag card for this product states that this is a moisturizer that is a "well-kept secret for fresh dewy skin". I have oily and sensitive skin so I am super picky about what goes on my face. I have not used this sample yet but….the full size of this is $123 for 1.06 oz . This is an expensive addiction if I happen to like it. So I think I am scared to try it, haha.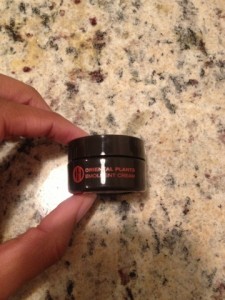 Koh Gen Do Cosmetics Oriental Plants Emollient Cream
Pixi Nail Polish: I discussed this in my March favorites post found here. Check out that post for a full review and pictures of it on my nails. Love this shade and the consistency.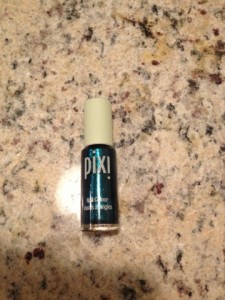 Pixi Nail Polish in Evening Emerald
Sebastian Professional Shaper Fierce Hairspray: This is the one product I most likely will not use out of my Glossybox. I barely used hairspray when I was relaxed and doubt I will use it now that I went natural. Maybe I'll save this for when I straighten my hair next.
Overall I think this Glossybox is a great value for what I paid for it and I did find a new favorite in the Pixi polish.
Click here
(my personal invite link) if you would like to sign up for Glossybox. See you guys next post!