Sponsored, Press Sample
If you've followed my blog from the beginning you remember how much of a product junkie when it came to my hair I used to be. I used to try everything under the sun looking for the perfect staple products but once I found them my product junkie-ism fell by the wayside. So when I got a hold of this new line from Pantene I was excited to try something new again! Also – at the end of this post there's a video demo of me doing a wash and go using these products.
In case you're wondering, I transitioned from relaxed to natural hair from June 2012 until March 2013 when I chopped the rest of the relaxer off. Since March it's been me and my new hair texture getting to know each other.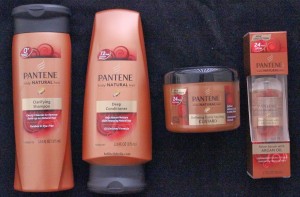 Pantene Truly Natural Hair Line
Clarifying Shampoo, Deep Conditioner, Defining Curls Custard, Shine Serum with Argan Oil
If you remember a few years back Pantene used to have one line called "Relaxed and Natural" (I still have bottles in my stash) that was a catch all line for women of color. Having had both relaxed and natural hair i can tell you that my needs are way different so I'm glad they split the line into two to address two different needs. Both lines still sport the original brown packaging. There are a total of 5 products in the Truly Natural Hair line and I have four of those to review for you today. I will get into the details of each product later but these products do contain sulfates and/or silicones.
As far as shampoos go, many girls with natural or curly hair tend not to use shampoo frequently due to its tendency to strip hair of essential oils and moisture that curly hair needs to thrive. I'm one of those people, and I usually only shampoo once every few weeks as needed because I use products that do not cause buildup in my hair, for instance like non-water soluble silicones. For reference I typically do not use products that contain silicone. When I do shampoo I use products that do not contain sulfates due to their stripping factor. Unfortunately this product does and in turn can be a little harsh on my hair so I wouldn't use this very often. If you're not into co-washing I think this shampoo would be useful to you, but for me I found it to be nothing out of the ordinary. I wish they had a lower sulfate, or sulfate free version of this product as I think that would appeal to more curly/natural haired women.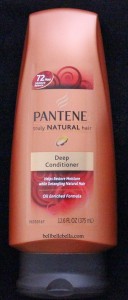 Pantene Truly Natural Hair Deep Conditioner
Pantene Truly Natural Hair Deep Conditioner
Now this is probably my favorite out of everything that I have tried. It detangles amazingly and leaves your hair feeling so soft. My shower detangling brush glides through my hair with minimum fuss. All of the products all have that classic Pantene smell which I love. So clean and fresh and brings back memories of my childhood – haha. Since I did not have the Co-Wash I used this to Co-Wash which has worked well especially with all of this dry air around.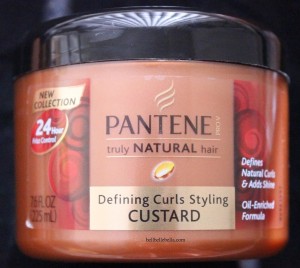 Pantene Truly Natural Hair Defining Curls Styling Custard
Pantene Truly Natural Hair Defining Curls Styling Custard
Check out the video below to see this product on my hair in action! Overall I was pleasantly surprised by the amount of hold this had considering this is a custard. With that said it can leave your hair pretty crunchy if you use too much product so it's a balancing act. This product worked well with my tighter curls in the back but was challenging to use on my looser curls in the front of my head. For some reason it would not hold definition and would frizz up when fully dry. My solution to this is always wearing a headband when I'm styling my hair with this. I typically can get 2-3 day hair out of using this without frizz completely taking over.

Pantene Truly Natural Hair Shine Serum with Argan Oil
Pantene Truly Natural Hair Shine Serum with Argan Oil
This is one of my favorites from this line as well. When applied after a leave in conditioner and before the Defining Curls Custard my hair is beautifully shiny when soft. I don't typically use serums or oils on dry hair because they can tend to break my skin around my hairline out but I had no problems using this. I also think this serum wouldn't be natural hair specific; anyone can use this. It's not heavy and does not weigh your hair down even though it does contain silicones.
Check out the products in action below!
Wash and Go: Pantene Truly Natural Hair Defining Curls Custard

Overall, I think you really cannot go wrong with any of these products since they are so affordable at under $10 each in drugstores if you're not ingredient sensitive, or if you want an alternative to the sometimes exorbitantly priced natural haircare products out there. I can definitely see myself incorporating the Deep Conditioner and Defining Curls Custard in my normal hair routine.
What do you guys think of this line?
Check out Pantene:
Disclosure: This post was sponsored by Pantene through their partnership with POPSUGAR Select. While I was compensated to write a post about Pantene Truly Natural, all opinions are my own.