Since I've cut my hair (it's almost been a month now!) I have been on the search for the a Holy Grail Gel. A holy grail product is one you absolutely cannot live without and you must have to survive. After testing out six different gels I think I have found my HG gel *cue angelic music*. I tried gels from light/medium hold to helmet hair hold in my comparisons. I also for the most part used Kinky Curly Knot Today or Cantu Creamy Hair Lotion as leave ins. If you haven't seen pictures of my hair check out my Instagram but I have a what I'd like to call a "not so teeny teeny weeny 'fro" and I think my hair type is 4a for the most part with some 3c sprinkled in the front. Don't quote me on that. I'm bad at hair typing. lol. But these can apply to any girl (or guy) with curly or wavy hair as well! I'll also have links to these products at the end of the post.*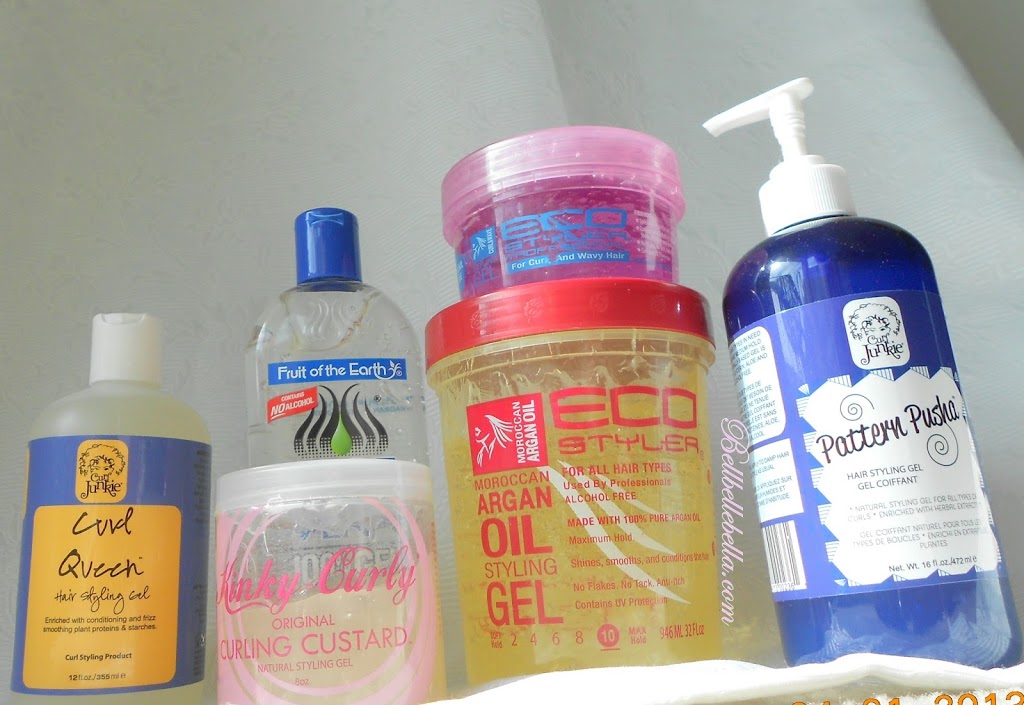 Natural Hair Gels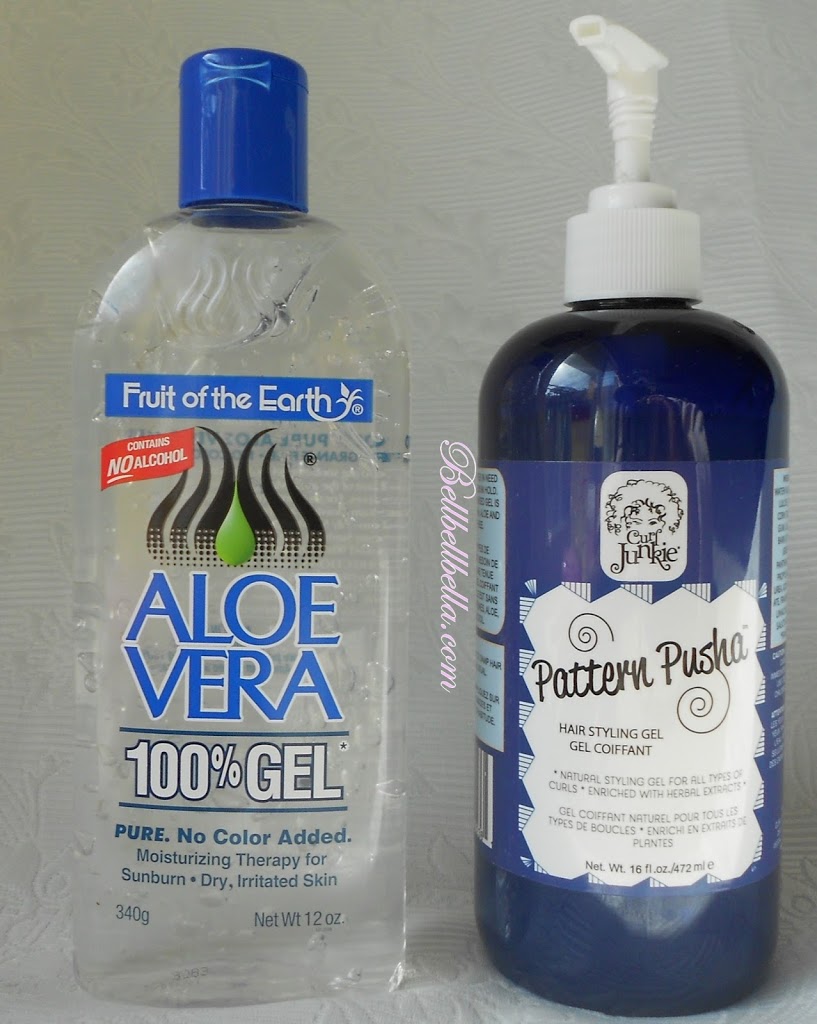 Fruit of the Earth Aloe Vera Gel, Curl Junkie Pattern Pusha
Aloe Vera Gel and Curl Junkie Pattern Pusha
The Aloe Vera Gel and the Curl Junkie Pattern Pusha would have to be the bottom two on my list of gels. My hair looked fine when it was wet but lost 90% of it's definition when it dried. The aloe vera gel is the worst offender of this and I didn't really hate it; it would be good for the weekends or hot summer days but for everyday for work I was not really feeling this one. The Pattern Pusha gave me inconsistent results each time I used it which was weird. Some pieces would dry super defined and the rest would be frizzy. Not cute. This was also the only product that left white residue in my hair. I'll experiment with this one more in the future but for now I'm not feeling it. I love the pump bottle though (gels can be BRUTAL on your manicure) so I'm hoping to work it out with this one.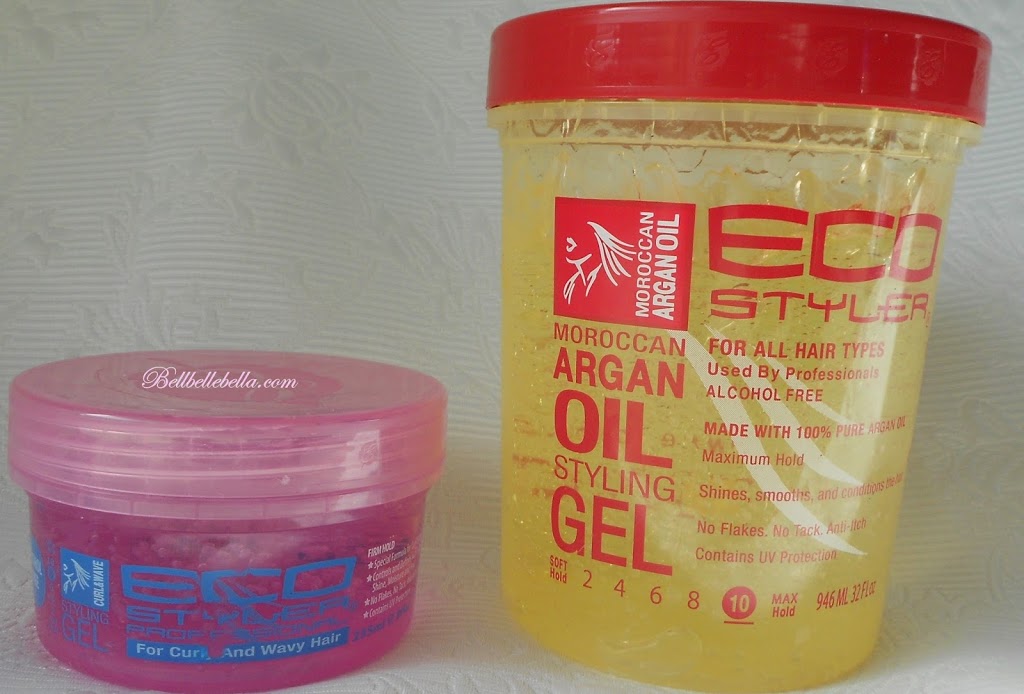 Pink EcoStyler Gel, Argan Oil Ecostyler Gel
Ecostyler Gels
The infamous Ecostyler Gels! You can find these at your local beauty supply store for about $5 and they may actually last you forever. The Pink Ecostyler has a hold of 8 on a scale from 1-10. The Argan oil eco styler has a max hold of 10. These gels define your curls like nobody's business…but there is a drawback of hard hair. Your hair won't frizz up or anything but it will be HARD. I've used this a couple of times with putting an oil blend on my hair before applying the gel but it's still teflon tough. I wouldn't wear this look for more than a day just because it can be a little drying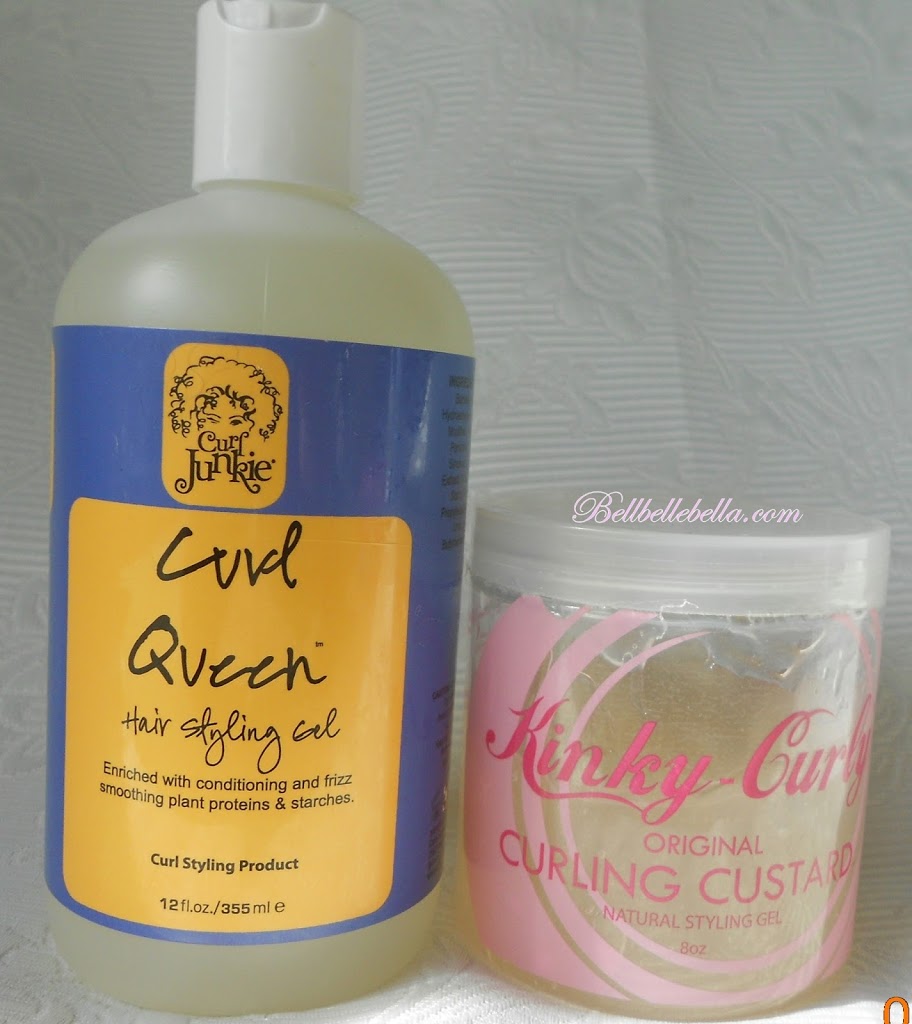 Curl Junkie Curl Queen, Kinky Curly Curling Custard
Curl Junkie Curl Queen and Kinky Curly Curling Custard
Now on to my babies. I love these two so much I want to swim around in a big vat of these gels. These two got me through the days when I was unsure whether or not I like my hair since cutting it. I've also gotten the most compliments on days when my hair is styled with one of these two. Both of these gels are slimy in nature (almost snot like- sorry!) and I think this is what my hair likes. The Curl Queen has a light to medium hold but it leaves my hair so moisturized and shiny. I like hair you can run your hands through! The Kinky Curly Curling Custard blows all of these out of the water. Shiny, defined, moisturized hair and the best part…..this is the only gel that gives me 2-3 day hair. Praise!! The KCCC is very fickle with other products so I only use the Kinky Curly leave-in with this one and that's all I need. Obsessed. So very obsessed with these two even though they are more on the expensive side.
What are some of your favorite hair products that fight frizz?
*Disclaimer: This post contains affiliate links.