Affiliate Link
So I have been on a palette kick lately. This week's Palette of the moment is none other than the LORAC PRO Palette. I picked this up from beauty.com when they had their friends and family sale (Click to watch my Haul video here!) two weeks ago and have been using it interchangeably with the MAC Bare my Soul Quad and I just love it.

LORAC PRO Palette
This palette contains 16 eye shadows; the top row has eight mattes and the bottom row has eight shimmery shades. I originally got this palette because my collection is seriously lacking in matte shades, and I figure a palette is the best way to try many shades out without committing to buying a single eye shadow. Sometimes you need a subtle wash of color instead of a disco ball of color on your eyes you know?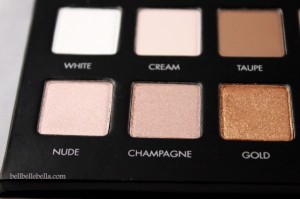 LORAC PRO Palette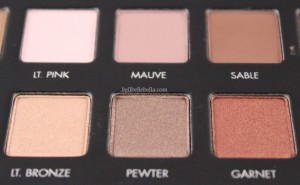 LORAC PRO Palette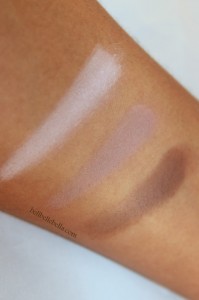 LORAC PRO Palette Swatch: Lt. Pink, Mauve, Sable
The colors in this palette are very pigmented and glide on your eyes like a dream. The lightest colors for me I use as highlighting brow bones and tear ducts and the browns make for exceptional transition colors on the lid. I think this palette is much more women of color friendly when it comes to basic matte shades like say for instance the Urban Decay Naked Basics palette. Not enough usable colors for those of us with darker skin.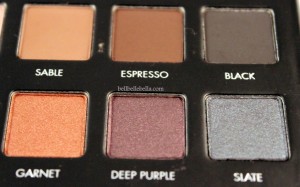 LORAC PRO Palette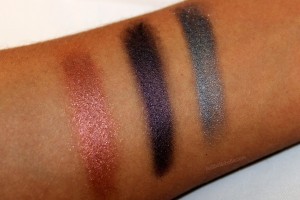 LORAC PRO Palette Swatch: Garnet, Deep Purple, Slate
Just look at those swatches of the last three. Absolutely beautiful! I like that the shimmer shades in this palette are not over the top; they give just enough sophisticated sparkle without going overboard. These shadows stayed put all day using my Urban Decay Primer Potion and the LORAC Behind the Scenes Eye Primer that came with this kit.
What palettes have you been into lately?