Affiliate Link
**This post was updated with swatches of everything on 4/16/14**Today I will be doing a review of the mother of all makeup palettes: the SHANY Cosmetics the Masterpiece 7 Layers All-In-One Makeup Set. This kit contains four layers of eye shadows, a lip palette, a concealer palette and a blush palette. The pigmentation on these is AMAZING! If you're thinking of those huge department store palettes that have a million poor quality eye shadows this is not one of those at all. So clear your assumptions of huge makeup sets and let's see what's inside.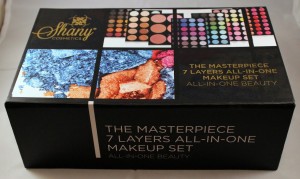 SHANY Cosmetics the Masterpiece 7 Layers All-In-One Makeup Set
The set comes in a black box with a magnetic flap that keeps all the layers inside nice and neat. Each layer has it's own little compartment or shelf to sit on inside the box. This is currently sitting on my bathroom counter along with the rest of my palettes and it fits right in!
Eye Shadows
The eye shadows in this palette contain a great mix of shimmer and matte shadows. I originally got this palette to experiment with bright colors I would not usually buy as single eye shadows. They all have great pigmentation and for the most part are not too powdery when applying. These tend to last all day on me with or without primer. The only thing this palette is missing is a pure black eye shadow but you cannot complain when you have 112 other colors to choose from??