If you haven't heard by now Urban Decay released a third version of their oh so popular Naked Palette last week. I was lucky enough to get my hands on one and as of the publishing of this post it is currently out of stock on the Urban Decay website, but there is a place you can enter your email address to be notified when it restocks. Information has varied but from what I've seen it will be exclusive to the Urban Decay website until mid December when it will be released at other retailers right before Christmas.
This iteration of the Naked Palette features Rosy toned shadows. You guys know how much I love my purple shadows so I was excited to venture into the pink world for a change. There was some confusion as to how this palette would look on people with brown skin because of the pink tones but I think you will be pleasantly surprised if you take a look at my swatches below. For reference in foundations I am a MAC NC45, I wear Macao in NARS sheer glow foundation ( a little too dark for me in winter) and I can wear Caramel in Revlon Colorstay Foundation.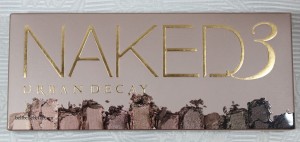 Urban Decay Naked 3 Palette

Urban Decay Naked 3 Palette
The Naked 3 packaging is of course rose gold to compliment the shades inside the palette. Naked 2 was gold to compliment the gold toned shadows in that palette. Naked 2 came with a lipgloss extra and the new Naked 3 comes with a sample pack of UD Primer Potions. You get four little packets of the Original formula, Eden the nude formula, Sin the shimmery formula, and the newest Anti-Aging formula. I find this to be a better bonus gift than the lipgloss as in my experience UD shadows are notorious for fallout. If you're not familiar, fallout is when your eyeshadow applied to your lid starts spewing glitter down your face as you blink or move your eye. Soon you're walking around looking like a Christmas ornament.
Just for reference I do not currently own the original Naked palette.

Urban Decay Naked 3 Palette
Look how pretty! Every shade in the palette has some sort of subtle pink tinge to it so any shade can be used to achieve a cohesive look. I really like that about these Naked Palettes, you really can't go wrong with any color combination you choose within the same palette. You know how some palettes are just kind of a mismatch of colors and it's hard to quickly determine which shades look the best together? That definitely does not happen here.

Urban Decay Naked 3 Palette
Just like with Naked 2, the double ended blending and shader brush makes another appearance. This brush is great to have on hand when traveling and they will work just fine but in my opinion I have better eye brushes that I would prefer to use than this brush. If you don't have many shadow brushes (or any) then this brush is a great way to get started since it is a 2 in 1.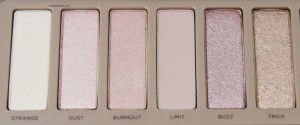 Urban Decay Naked 3 Palette
I like that they only included one lighter color as I really do not need that many choices in terms of colors for highlight. Dust is a pretty glitter that will be fallout city because it is a little chunky (and so it Trick); I've used my finger to apply this on the center of my eye look last night and it adds a gorgeous finish. My favorite out of the above is Buzz (that's what made me fall in love with this in the initial swatches I saw) it's like the perfect pink shade taken up a notch with all the glitters. Look at me turning into a glittery eyeshadow person right before your eyes!


Urban Decay Naked 3 Palette
Nooner was a shade that surprised me when swatched as it comes off a lot more purple than in the pan, Factory and Mugshot were pleasant surprises too! You can really see the purple/pink tinge of these shades out of the pan. The shades in the second half of the palette at first glance look pretty average but when applied they take on a whole other dimension. I used Blackheart (black with red glitters) in my outer V last night and it's definitely a different take on the black shadow which I can appreciate. I have a lot of palettes and lots and lots of them contain a standard black shadow and it can get kind of boring so I'm glad to have this different take.
I wore Dust, Factory, Buzz, Strange, and Blackheart in my eye look for my anniversary dinner last night. Here are some quick pictures, excuse the oily face and the lighting as it was quite dim in the restaurant.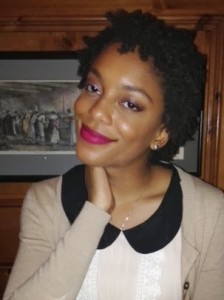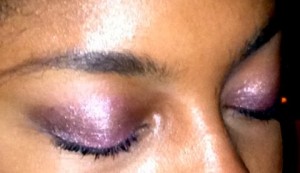 Check out a quick 3 Minute Overview of this palette.
Overall I see myself getting more use out of Naked 3 than I do with my Naked 2. I think the colors and tones flatter me a bit more and the shades are very feminine and flirty without being over the top.
Make sure you're subscribed to my YouTube channel as well since I will be posting some Get Ready With Me videos for the holidays using this palette!
What do you think? Do you have the other Naked Palettes? Do you need this one?