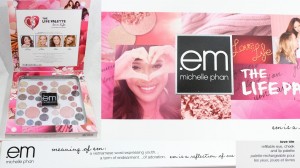 If you haven't heard already popular YouTube Beauty Guru Michelle Phan teamed up with L'Oreal Luxe to create her very own makeup line including palettes, lipsticks, powders, eye shadows, and more. L'Oreal Luxe is home to beauty brands you may have heard of before such as Lancome, Urban Decay, YSL Beauty, and Shu Uemura just to name a few. I admit I'm always curious when a YouTuber or blogger hits the big time so I was lured into her makeup line instant. Her marketing team does an amazing job as well; the promo videos were fantastic!
True to Michelle's title of being one of the most popular Beauty YouTubers each product in her collection comes with a video tutorial so the makeup is essentially fool-proof. I decided to pick up one of the Life Palettes that come in a variety of themes and each includes 36 pans of eye, lip, and cheek, products. The set in total costs $75 including a tool to help remove the pans in the palette, a double ended liner and shadow brush, and a travel size compact so you can take your pans on the go. Was it worth it? Keep reading to find out!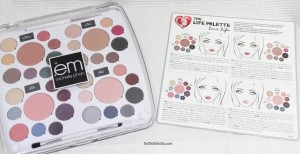 Em Michelle Phan Love Life Palette
The palette itself is about as tall as my iPad mini and about an inch and a half wider in total so it is substantial. The packaging was cute and dainty and pink of course which I love. It also came with a laminated insert with suggested looks you can achieve with the various quadrants. I don't know about you but the paper ones that come with other palettes usually end up destroyed in a couple of months so this is nice.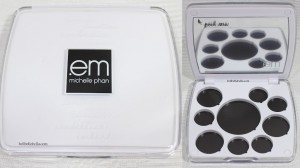 Em Michelle Phan Travel Size Life Palette
For right now at least every order of a Life Palette comes with a free travel size palette that you can drop your pans into and go since the palette is so large. The travel palette has "em" words engraved in it like "embrace" and "embark". The mirror is rather large which is a nice change; you can see your whole face without moving around too much. This currently houses some of my favorite lip shades from the palette as cream and powder mixed together in one palette can get kind of gross and gooey.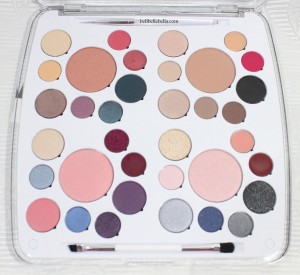 Em Michelle Phan Love Life Palette

Em Michelle Phan Love Life Palette Brush
The palette comes with a double sided angled liner and all over shader brush which is handy if you do not own many brushes.
Em Michelle Phan Love Life Palette Tool
As you can see in the picture above each pan has a small circle on its side making it easy to use this tool to pop them out.
Lips

Em Michelle Phan Lips: L-R from Warm Fuzzies, The Real Me, Girl Time, All Yours
I swatched all of the lip products together but for the most part from each quadrant there is a subtle shade and a bolder shade. These are not sticky at all and have decent pigmentation on the lips.
Blushes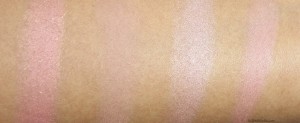 Em Michelle Phan Blushes: L-R from Warm Fuzzies, The Real Me, Girl Time, All Yours
For the most part with those with darker skin the blushes in this palette are hit or miss. The first, fourth, and on a good day the second can be built up for noticeable coverage. The first blush from the Warm Fuzzies quadrant is by far my favorite.
Eyeshadows
Most of the shadows with the exception of three have great pigmentation and last on me through a whole work day which is 8-9 hours without visible fading/.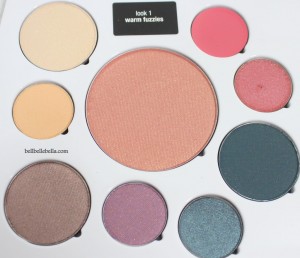 Em Michelle Phan Love Life Palette
Time for the quadrants! The palette also came with these helpful stickers so I used them for labeling and swatching. This is my far my absolute favorite part of the palette. The shades are pigmented and subtle enough for everyday use. The purple-goldish shade is my favorite to use in the outer half of my lid. I have a Get Ready With Me video on my YouTube Channel using these colors which I will link below

Em Michelle Phan Love Life Palette
Neutral loving girls this one is for you! These shades help to create a clean natural look that would be great for work or light makeup days. The black shadow is still not as black as my Makeup Geek Corrupt shadow but it's not bad for a palette color. I also frequently use the browns in this quad for transition or crease colors.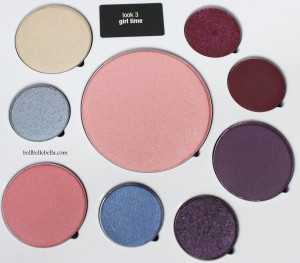 Em Michelle Phan Love Life Palette
The bottom of the palette has more out there romantic colors like bright pinks and lighter blues. This quadrant did give me a bit of trouble with the ultra glittery purple; it took so many swipes to get the color to opacity which is a shame because it is rather pretty. The darker matte purple I could also see myself using frequently in the fall months.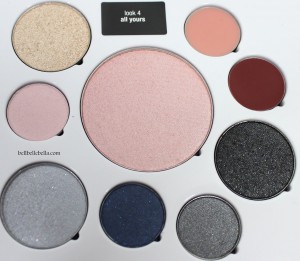 Em Michelle Phan Love Life Palette
Again the glittery shades in this quad gave me trouble as well. The glittery black I found was quite powdery and a little difficult to control. The glittery blue here experienced the same problems as the purple I mentioned above. Overall I love the combo of colors in this quad and they are all quite usable; it just takes a little effort.
Is it worth it?
In my opinion if you're an old pro at makeup or have a very extensive collection then you will probably have these shades already somewhere in your collection. However, my goal audience of this blog is not makeup professionals it's your average everyday 20-something girl like myself. You really can't go wrong with this palette for $75 if you do not have many eyeshadows or blushes. If you think about it something in the mid-range for pricing eye shadows can go for about $10-15 a blush is maybe $15-20 so you do the math if you were to buy these colors individually. It's a great way to experiment with color and find things you like especially with the helpful video tutorials for every quadrant. I rather like the idea that I can move the shadows around and create my own combos to help me make different color combinations. I was apprehensive about it at first but now I absolutely love it!
Check out my simple Get Ready With Me video using this palette:
What do you think of these Life Palettes?