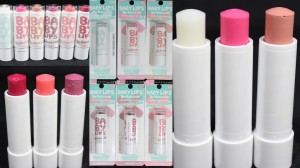 Maybelline Baby Lips Dr. Rescue
Well would you look at that! Maybelline has a new collection of Baby Lips (check out my post from June about the Electro Collection!). I'm mildly obsessed with lip balm so of course I had to pick up all six and show you guys the goods! These are the Baby Lips Dr. Rescue Medicated Balms which contain .05% Menthol for "the temporary relief of pain associated with fever blisters and cold sores". They come in six different colors and I picked these up at Bed Bath and Beyond/Harmon. Will these be your best friends in the coming cooler months? Keep reading to find out!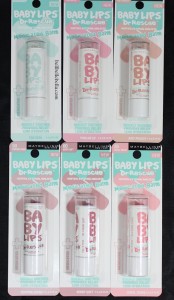 Maybelline Baby Lips Dr. Rescue
I love the cute little bandaids these Baby Lips have. If you've been a long time reader of my blog you'll know that I compared the original Baby Lips in Quench to the Fresh Sugar Advanced Therapy Lip Treatment (check out the post here). I think these are a little more comparable to the Fresh treatment in terms of moisture which is quite nice. The common complaint with Baby Lips for the folks who don't like them is that they are not moisturizing enough; Dr. Rescue Baby Lips offer definite enhanced dry-lip-healing powers over regular Baby Lips.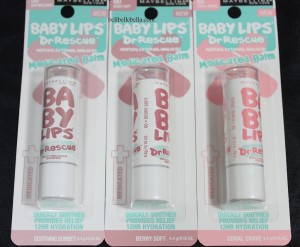 Maybelline Baby Lips Dr. Rescue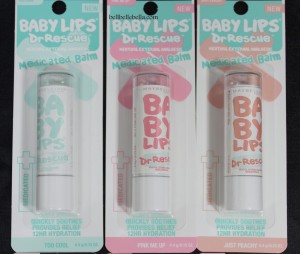 Maybelline Baby Lips Dr. Rescue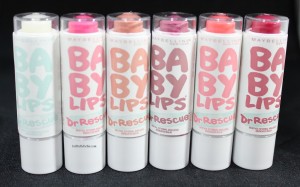 Maybelline Baby Lips Dr. Rescue
If you're looking for fruity scents and fun flavors you won't find it in these. These smell faintly of Vicks Vaporub in the tube (there's no smell on application) and there is no taste when applied to the lips. I really like that about these – they offer menthol to soothe chapped lips but also a nice hint of color so your lips don't look like zombies while they are healing. The closest thing I can compare it to would be Carmex but these are infinitely cuter and chicer to wear while healing your lips.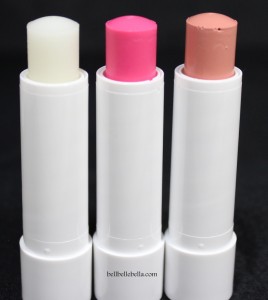 Maybelline Baby Lips Dr. Rescue
Too Cool, Pink Me Up, Just Peachy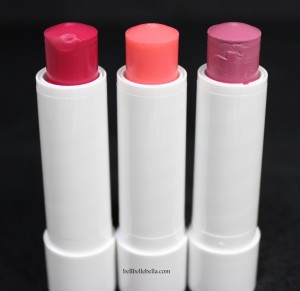 Maybelline Baby Lips Dr. Rescue
Soothing Sorbet, Coral Crave, Berry Soft

Maybelline Baby Lips Dr. Rescue
My favorites are of course Too Cool because it's sheer which will be perfect to put on right before bed, Pink Me Up which is a nice wash of pink on the lips, and Soothing Sorbet for a hint of red to cover up any dry patches. We all know there's nothing worse than trying to put on lipstick or lip gloss over dry lips; every little imperfection stands up and announces itself to the world. And we know what a bore clear medicated lip balm is as well. I applaud you Maybelline for making these in tinted colors!
It's also interesting to note that these Baby Lips have expiration dates due to menthol being an active ingredient so make sure you use these up by 2015! Have you spotted these new lip savers yet?