Today's post is one of my favorite Instagram finds in a while. I frequently see nail polish bloggers rave about this indie nail polish brand so I had to check them out for myself. I picked up a few polishes from the KB Shimmer Winter 2013 line to share with you guys today.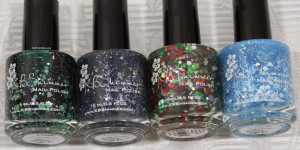 KB Shimmer Nail Polish Winter 2013
Green Hex & Glam, Will Yule Marry Me, Kringle All The Way, Snow Much Fun
I get so excited when I see pictures of polish for a while and gag at how beautiful they are and then get them in my hands to play with and they are equally awesome! As usual check out my Instagram for pictures of these babies on my nails in action.
Green Hex & Glam
"
I then loaded that base with silver holographic hex glitters in sizes from micro to extra-large for an ultra-sparkly polish."
This was the polish I saw that made me pull the trigger on buying from this brand. A lot of the shades are collaboration shades with other bloggers (I love when companies do that!) and this shade is the brain child of Kayla Shavonne. Who doesn't love a dark green holographic nail polish?
Will Yule Marry Me
"…navy blue creally with sparkling silver holo glitters. Both circle and hex holo glitters give this polish its sparkle and shine."
I posted a swatch of this polish on my Instagram and everyone went crazy! It's so pretty and is a unique holiday shade; a departure from the typical red and green polishes. I love this one so much I'll be wearing it year round of course.
Kringle All The Way
"From small to large, in the classic red, green, and sliver, this glitter topper will make any manicure merry and bright."
This polish is absolutely beautiful over a red or green base. The circle glitters are so pretty and really coat the nail. What's even more awesome is that until 12/13 $4 from each bottle sold will be use to supply donations for Toys for Tots!
Snow Much Fun
"This light blue jelly sparkles with light blue holo glitter, white glitters in several sizes and finishes, a sprinkling of micro holographic glitter, and of course, white snowflake glitter. "
This polish is so pretty and will work even after the holiday season has come and gone. Just look at it. I love how KB Shimmer includes instructions online and in the package insert to help you get the maximum effect of their polishes. For example, they will tell you how many coats to use to achieve the effect in their swatches which is great!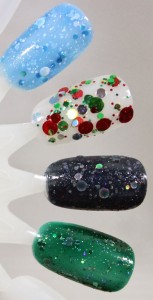 KB Shimmer Nail Polish Winter 2013
Snow Much Fun, Kringle All The Way, Will Yule Marry Me, Green Hex & Glam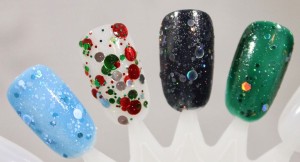 KB Shimmer Nail Polish Winter 2013
Snow Much Fun, Kringle All The Way, Will Yule Marry Me, Green Hex & Glam
Needless to say I will be purchasing more from this brand in the future! What do you think? Tell me some of your favorite holiday polishes in the comments!