This is a continuation of my post of High End beauty wishlist. I ended up finding everything I wanted on my drugstore wishlist so I decided to share with you things you NEED this fall that are beautiful and affordable. Revlon currently by FAR has impressed me with what they have out at the drugstore right now. Tomorrow's post will be about makeup but today is strictly about the new Revlon nail offerings. Prepare yourself for these beauties..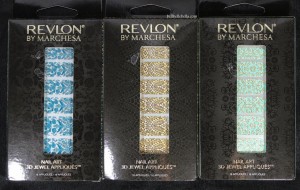 Revlon by Marchesa Nail Art 3D Jewel Appliques
Silk Rosette, Gilded Mosaic, 24K Brocade
(Sorry about the glue spots on the front; had to remove those annoying CVS stickers that say the location I got these from for safety reasons 🙂 ). I am LIVING for these. I first heard about this collab back in August maybe and I have been on the hunt for ages for these. Marchesa makes absolutely beautiful clothing and I knew these would be nothing short of spectacular. I'm not even sure I'll actually use these because they are beyond gorgeous but look at the close ups!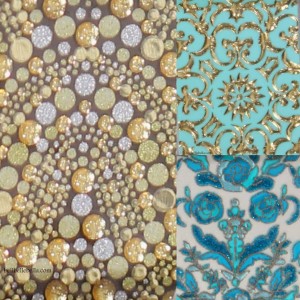 Revlon by Marchesa Nail Art 3D Jewel Appliques
Gilded Mosaic, 24K Brocade, Silk Rosette
Are you in love yet? There are more and I may go back to get some but these will run you about $9.99 at CVS. I'm so in love. My favorite would have to be 24K brocade. So much Tiffany blue and gold goodness.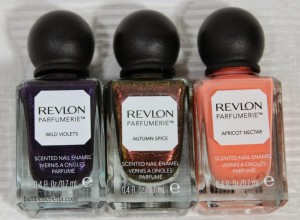 Revlon Parfumerie Scented Nail Enamels
Wild Violets, Autumn Spice, Apricot Nectar
Continuing on our must have journey Revlon has also come out with a ton of scented nail polishes in their Parfumerie collection. There are three different scent families; the Freshes, The Fruits & Florals, and the Sweets & Spices. Wild Violets and Apricot Nectar are from the Fruits & Florals side and Autumn Spice is from the Sweets & Spices. The formula of Revlon polishes are really great and lasts me an average of 4-5 days without chipping. #lucky
Revlon Parfumerie Scented Nail Enamels
Wild Violets, Autumn Spice, Apricot Nectar
I picked these out mainly on color. Wild Violets has blue shimmer in it that's hard to pick up on camera but it is so pretty. Out of all of them I would say the scent on Wild Violets is the strongest and it smells exactly as the name implies. The scent was amazingly strong on the first day, mellowed out on the second day, and by the third day if I smelled my fingers I still smelled violet faintly. Apricot Nectar is one of my favorites; it smells exactly like peach candy or the peach syrup they use to make Peach Fanta. So yummy and also a pretty color for your toes. Autumn Spice smells of cinnamon and sugar and just like my current favorite Cider Donut candle from Bath and Body Works. The color is an absolutely beautiful trio of brown gold and red. As always check out my instagram page for more nail swatches.
Run to the nearest CVS or Bed Bath and Beyond that has a beauty section (also called Harmon) and go pick these up! What have new things have you spotted in the drugstore?