Lately I've been loving nail polish even more than I already do. I've been experimenting with nail art (still need some more practice!) and I've been trying out new brands outside of those available in traditional brick and mortar stores (still love my Zoya and Essie, though!). I saw a swatch piCture pOlish Ocean on a blog once and I have been obsessed with this brand ever since.
piCture pOlish Monroe, Sea Jewel, Fairy Floss, Frosting
PiCture pOlish is an Australian boutique brand so it can be a little tricky to find in the states but luckily they have a few websites in the USA who are authorized distributors. I picked up the above four shades from Llarowe with free two day shipping over $50 which was nice. I couldn't wait to get my hands on these! I originally fell in love with Ocean but alas; I checked the website for a week and it was still sold out 🙁 so I settled on the next best things! Monroe and Sea Jewel are amazingly sparkly and multi-dimensional. Fairy Floss is beautifully opaque and is the perfect muted pink shade. Frosting is a jelly that looks like….frosting but it also has heart shaped glitters in it that make it even sweeter.
What I love about piCture pOlish is how supportive they are with bloggers; if you can tell on the Sea Jewel bottle it says by Wacky Laki. This brand frequently partners with amazing nail bloggers to create their perfect shade of nail polish and puts their name on the bottle. How cool is that?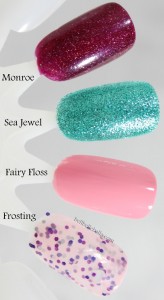 piCture pOlish Monroe, Sea Jewel, Fairy Floss, Frosting
I am just insane over these colors. Each of these is with two coats of polish. It's hard to capture the amazingness of Monroe on my nail wheel so keep scrolling for swatches, or better yet pick one of these up for yourself! Even though these were a little on the expensive side from what I typically pay for polish ($9 vs $14) it is so worth it for some of the jellies and glittery shades as I've yet to find something locally that compares.
A few weeks later…I finally got my hands on Ocean. By far in my top 5 nail polishes that I own. And since Ocean needed a friend I also picked up Electric Dream because it's pink. Hello.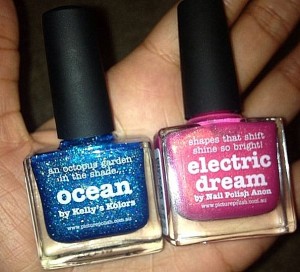 piCture pOlish Ocean and Electric Dream
Just look at Ocean. Amazing. The above shot was taken indoors with flash. The swatches below were taken in natural lighting with the exception of the swatch of Monroe.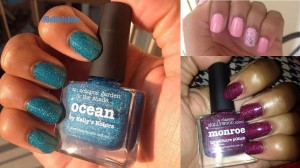 piCture pOlish Ocean, Fairy Floss & Frosting, Monroe
I'm so in love. I can't wait to add more to my collection!
What are some of your favorite polish brands?