Affiliate Links
Fall season makeup collections are seriously my favorite things ever. I just love the deep rich jewel tones and the  darker lipsticks. The weather is amazing also so your skin isn't overly oily anymore which is the best part EVER. Anyway – I've been so busy with wedding planning that I totally forgot to buy makeup THE WHOLE MONTH OF JULY. Who am I? Anyway you all know I can't resist a good palette so behold! My first Fall 2014 beauty purchase – The Make Up For Ever Artist Palette for Fall 2014.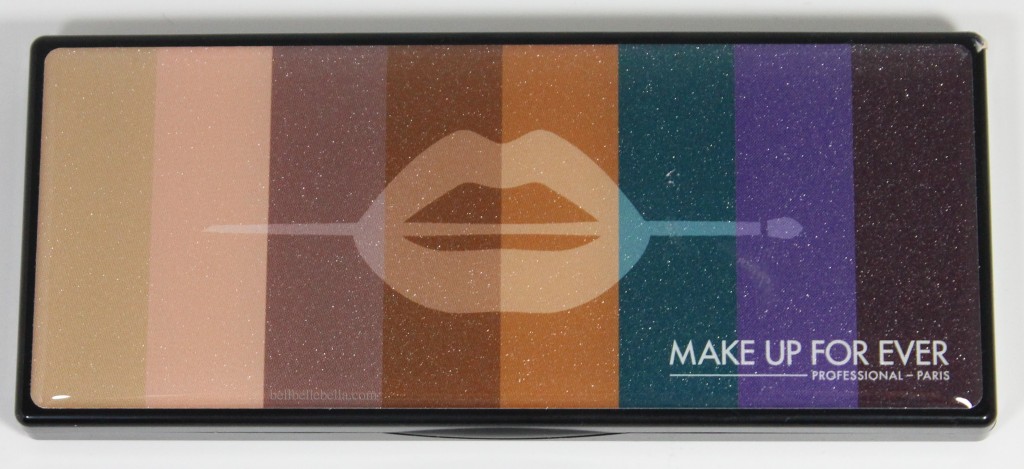 This is my first product from Make Up For Ever, shocking I know. Don't let the above picture fool you – I was surprised at how tiny this palette is! It is just slightly bigger than the palm of my hand which I kind of love because there is no excessive packaging to lug around when you're traveling. The colors on the outside of the case correspond to the shades of the shadows inside. There's also a decent sized mirror on the top when you open the case.

Inside the cases we also have two travel sized brushes. I HATE the sponge tip applicators and I'm a little meh on double sided so I'm glad they included TWO travel sided brushes. Love them for that. The top brush is marked with 226P which I can guess is a mini of the full sized MUFE medium shader brush, and the bottom brush is marked 214P – I can't find a full size equivalent on their website but this is your standard pencil brush shape.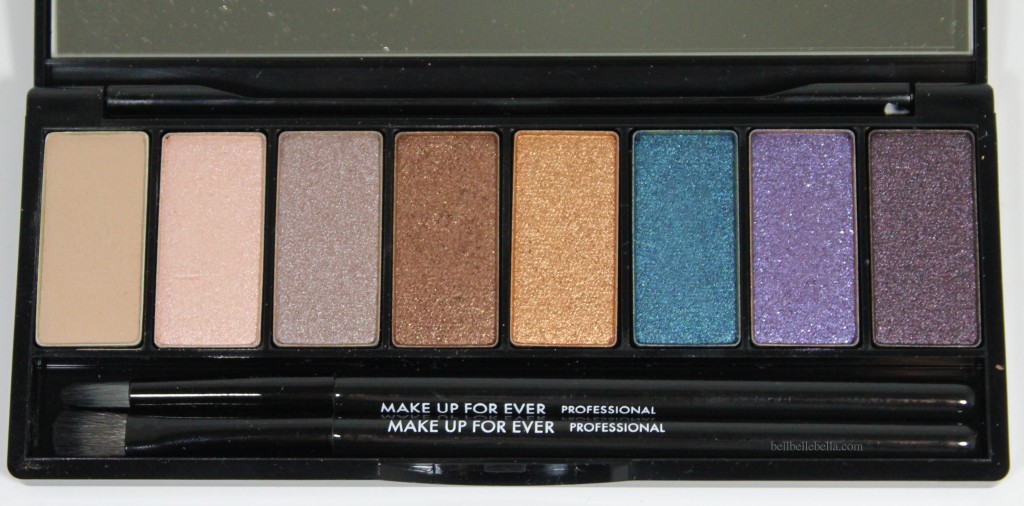 From Sephora:
"MAKE UP FOR EVER'S Artist Palette combines everyday neutrals with the season's on-trend colors for shades that range from everyday neutrals to deep, jewel tones. Created with an exclusive blending process, its unique gel-powder formula has a silky texture that is incredibly easy to apply and blend. It's super-saturated with ultra-fine, atomized pigments for intense color, leaving a smooth, even finish. Shades can be mixed and matched to complement your fall wardrobe."
I love that this palette isn't just deep jewel tones – it mixes in practical shades to make the palette more appealing to the everyday user. The shadows are creamy and absolutely glide onto the skin like you wouldn't believe. This gel-powder hybrid formula has been showing up every where lately; I know Milani has a new collection of shadows with this similarly described formula – I haven't found those just yet – but when I do I'll compare the two.
The shadows included are:
M-536 Milk Tea – Matte finish
I-524 Pinky Beige – Iridescent finish
I-550 Olive Grey – Iridescent finish
D-652 Celestial Earth – Diamond finish
ME-728 Copper Red – Metallic finish
ME-230 Peacock Blue – Metallic finish
D-926 Blueberry – Diamond finish
ME-930 Black Purple – Metallic finish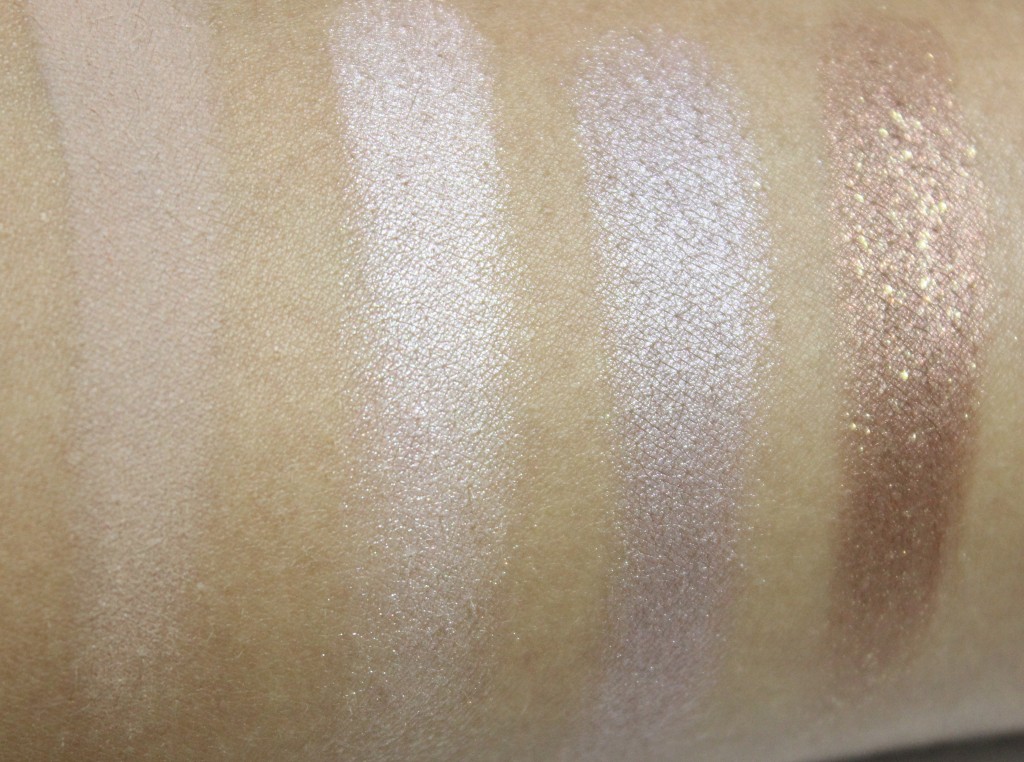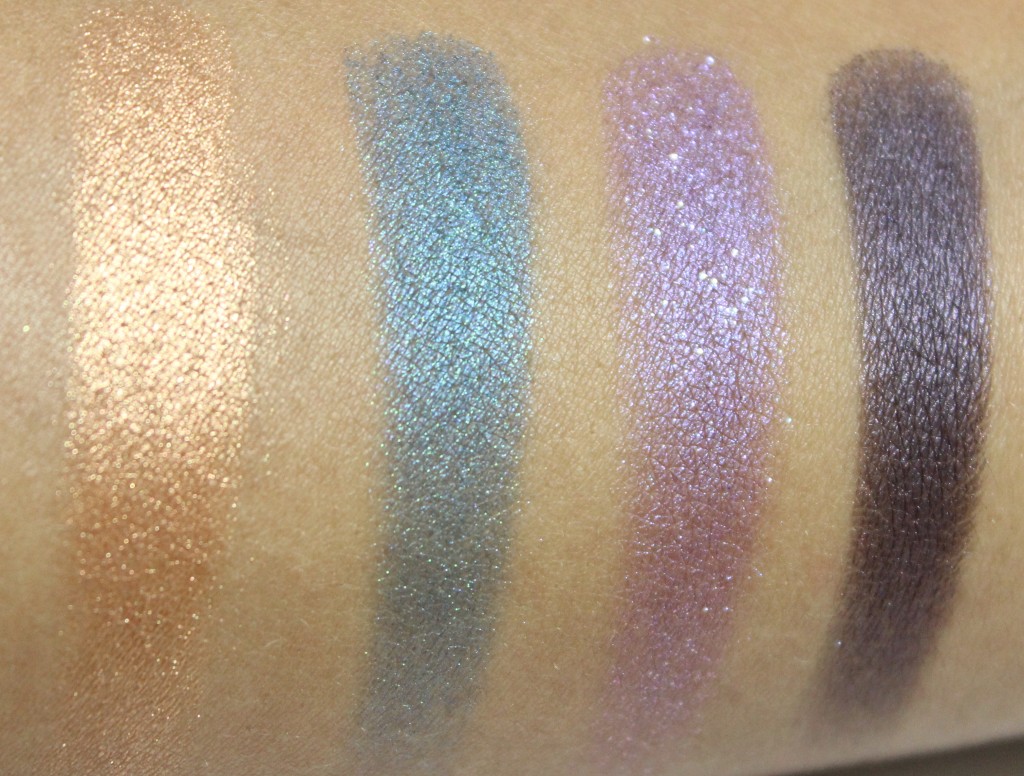 The Diamond finish shadows are absolutely beautiful how they catch the light. Even though it looks like large chunks of glitter in the swatches I promise it's just a light reflection – I experienced no glitter fall out with these shades. Also all swatches above are single swipes with my finger. Impressive!
What do you think of these "new" gel-powder shadows floating around lately?
Buy the Make Up For Ever Artist Palette here ($42).
Buy the Make Up For Ever Artist Shadows Individually here ($21).