Can you believe it's time to start talking about Holiday 2014 already? Where has the time gone?!
Holiday sets are usually my favorite things ever because you get the chance to try out a lot of things at one time from a brand at a great price.
This year LORAC's Royal Collection for Holiday 2014 does not disappoint and includes a ton of sets you'll LOVE (and maybe…a set of the two original pro palettes with mascara, eyeliner, a lip product and blush…for under $100? I would keep my eye on this brand if I were you!) and everything is in this chic merlot and red packaging which I'm rather partial to since merlot is one of my wedding colors…not biased at all!
But I'm not here to talk about the rest of the collection just yet…today's quick post is highlighting the real MVP of the Royal Collection…the LORAC Mega PRO Palette. The first LORAC PRO palette was one of my very first reviews on my blog and in my top 3 favorite palettes ever so they'll always hold a special place in my little heart. I've reviewed both the original and LORAC PRO Palette 2 here on my blog and YouTube channel before so go check those out after drooling over this post.
Yes my friends. The LORAC Mega PRO Palette exists. This enormous palette we've only seen on Instagram to date is not a unicorn. In fact I have an official image to share with you all….this really needs no introduction so BEHOLD:
(Click on this bad boy to enlarge it and view it in all it's glory)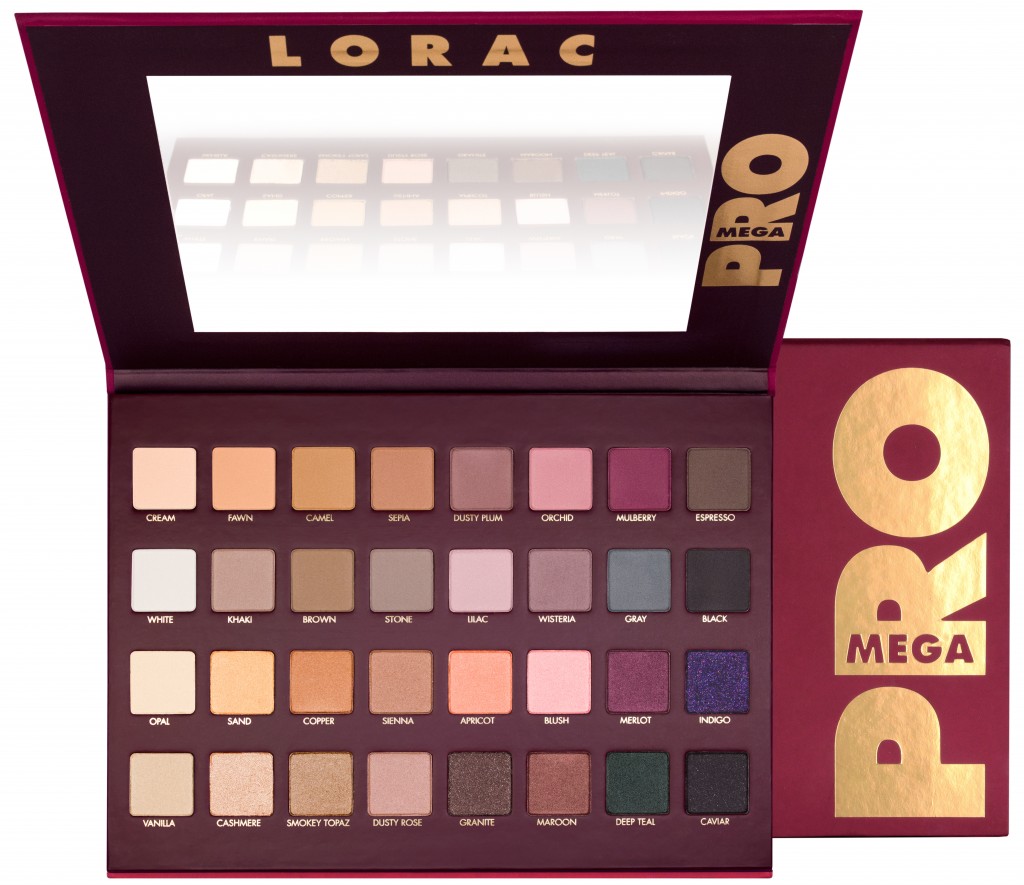 LORAC Mega Pro Palette:
"Created by celebrity makeup artist Carol Shaw, this limited edition PRO artistry palette is double the size of the original PRO palette and packed with 16 shimmer and 16 matte eyeshadows in all the shades you need to create the hottest looks from the Red Carpet".
SRP: $59.00 (A $204 value)
Amazon.com and Loraccosmetics.com exclusive
Available October 7, 2014 (updated release date 9/30)
LORAC The Royal Collection for Holiday 2014
October 1, 2014: loraccosmetics.com
October 5, 2014: Ulta Beauty
October 5, 2014 Kohl's
October 15, 2014 Boutiques/other online retailers
Are you dying? I'm dead. I need this. Like yesterday.  This will seriously be so pretty on so many different skin tones. Tell me if you're excited for this in the comments below!