I still remember my first high end makeup products back in high school. My first one was a Chanel Lèvres Scintillantes Glossimer lipgloss in this gorgeous pink that matched my junior prom dress perfectly. My first high end foundation was also Chanel that I got for my sisters wedding and it was amazing. Still sad that they discontinued it….
Anyway as I was in Sephora the other day just browsing the aisles to see what's new as any good beauty blogger does and I came upon these beauties. I fell in love with number 14 Corail Incandescent but kept browsing and didn't pick it up. I thought about it all the next day and long story short I couldn't find this shade anywhere! After three stores I finally found it in Neiman Marcus and since I looked so hard to find this I decided that I would get two (lol). Enter number 12 Corail Incandescent! According to the website these lipsticks contain pomegranate extract for an antioxidant shield which you can definitely smell and taste in the lipstick. The best I can do to describe it is a perfumy jolly rancher. Sounds weird but I love it!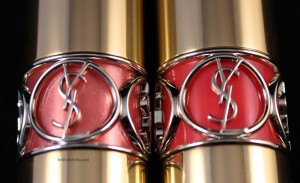 YSL Rouge Volupte Shine Lipstick in #12 Corail in Touch and #14 Corail Incandescent

YSL Rouge Volupte Shine Lipstick in #12 Corail Incandescent
12 Corail Incandescent: This color is so gorgeous. It comes off as a reddish coral that would be flattering on every skin tone. The Volupté Shine lipstick formula is not as opaque as their regular Volupté lipsticks which is a nice change for the summer weather if you're not a fan of true thick lipsticks. These are the most comfortable lip products to wear and even though you do notice fading after around 5 hours the color stains your lips so it still looks like you're wearing a beautiful lip stain in the same color.

YSL Rouge Volupte Shine Lipstick in #14 Corail in Touch
14 Corail in Touch: Of course I had to pick up two coral lipsticks; I couldn't resist. They are both in the same color family but noticeably different shades. Corail in Touch is much more of an Orange base coral than Corail Incandescent. I would say this is the daytime sister to Corail Incandescent; just the perfect wash of light color. If you build this one up it will pull more orange as well; in the lip swatch below I used one one coat of each color. The arm watch shows multiple passes of the lipstick.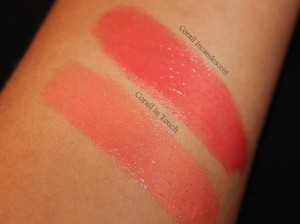 YSL Rouge Volupte Shine Lipstick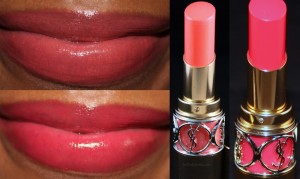 YSL Rouge Volupte Shine Lipstick #12 Corail in Touch (top)
YSL Rouge Volupte Shine Lipstick in #14 Corail Incandescent
In my opinion….I am obsessed with these. I now have the urge to go in and get the regular Volupté formula. I fear I've created a monster with myself.
What do you guys think about these lipsticks? Which high end lip products are your favorites?