While wandering aimlessly through Ulta which I usually do on a weekly basis I came across this cute little quad: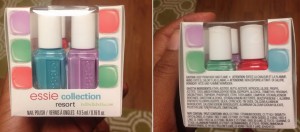 Essie Resort Collection 2013
The Essie Resort Collection for 2013 in mini form! I love buying the mini versions of polishes because I rarely finish an entire bottle of polish. I'm used to the OPI for Sephora minis that don't tell you the color on the bottle ( so you have to keep them in the boxes ugh!) but these were a nice surprise because the names are on these bottles. Hooray!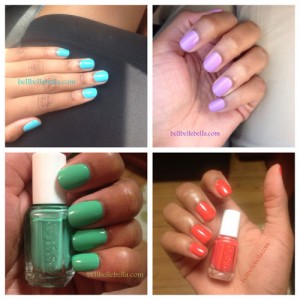 (Top L-R)Essie In The Cab-ana, Essie Under Where, (Bottom L-R) Essie First Timer, Essie Come Here
In the Cabana –

this was my first foray into light blue nail polish and I absolutely loved it. This color is perfect for spring and summer; it's just so cheerful and happy. This one wore the longest without chipping out of all four (using my Revlon Quick Dry Topcoat),

Under Where – I got the most compliments from strangers on this color. I think lavender is such a feminine and dainty shade; I'm surprised it took me this long to try it out!
First Timer – this color was a bit of a miss for me. I think this is my only green nail polish which is disappointing. It's a cool minty green in the bottle but when used with my topcoat it turned into a darker yellow green that I was not the biggest fan of.
Come Here – If you haven't noticed by now I love my pinks and corals and reds. I'm quite predictable in that regard so of course I loved Come Here. I also tried this color with a new topcoat I purchased called Out The Door and it stayed chip free on my nails for 5 days. It would have lasted longer but I needed to change my nail color. So far I'm impressed, but I'll test it out for my Zoya polishes and give it a full review.
Did you pick up anything from this collection? If so, what?