New collections are continuing on BellBelleBella! I bring you another new addition to Maybelline; one of the new Color Tattoo Pure Pigments in Breaking Bronze. Which kind of reminds me of Breaking Dawn…any Twihards out there? 🙂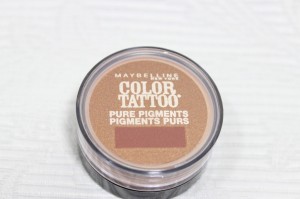 Maybelline Color Tattoo Pure Pigments in Breaking Bronze
I love the idea of pigments and how intense the color payoff can be. However. One thing I detest is how messy loose eye shadows and pigments can be on your vanity or counter top. There were a few years in high school that my mother and I were on an all mineral makeup craze and it was just everywhere. All in my drawers, all over the counter, all on the floor..nightmare. So I took a long break away from loose anything except face powder and this collection is slowly bringing me back into the fold.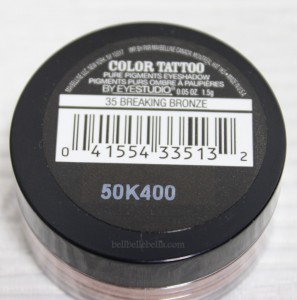 Maybelline Color Tattoo Pure Pigments in Breaking Bronze
If you're not familiar pigments are typically more color intense than eye shadows. Breaking Bronze is everything I want a bronze eye color to be. It perfectly compliments my skin tone, there's not that much fall out, and it stays where you put it. I love that this color is bronze and it actually is bronze; it's not borderline copper or too orangey. It's also amazing for use everyday. You can also create a different look depending on if you use this dry or wet on the eye.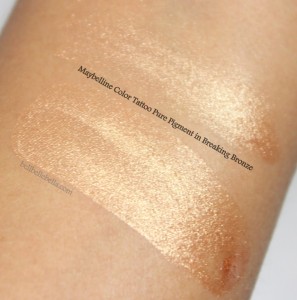 Maybelline Color Tattoo Pure Pigments in Breaking Bronze
Top: Dry, Bottom: Wet
I only picked up this one because I am still weary of loose products because I can be a little clumsy. Check out the shades here and tell me in the comments below which ones you'll be picking up!