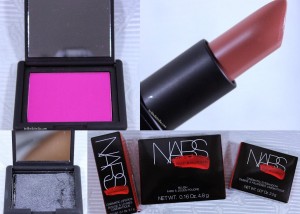 NARS Buy Bourdin Holiday 2013
Happy Monday everyone! Can you believe these are the last four days of October?! I sure can't but in case you're not counting down the start of the Holiday season is just about a month away so today I have for you a few pieces from the NARS Guy Bourdin Holiday collection. I know the controversy that has surrounded some of the imagery NARS used from the controversial Guy Bourdin but I have included none of those images and will only be commenting on the quality of the makeup.
These come with a special Guy Bourdin over a strike of lipstick on the packaging, and the sides are also red for a festive look. Outside of the boxing the products themselves come in regular NARS packaging.
Last Tango Cinematic Lipstick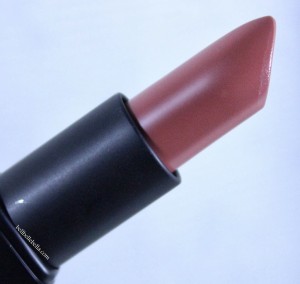 NARS Guy Bourdin Holiday 2013 Last Tango Lipstick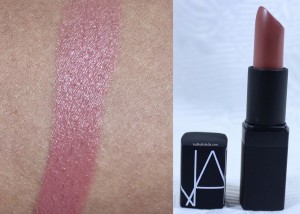 NARS Guy Bourdin Holiday 2013 Last Tango Lipstick
Last Tango is described as a dusty rose color and is in the limited edition Cinematic Lipstick formula which contain "Creamy and comfortable, featuring an innovative blend of lip conditioners and antioxidants known to hydrate, nourish and protect lips". This is an absolutely beautiful nude shade for darker skin tones; it's the slightest bit pinker than my natural lips and it is stunning for everyday wear, or for a night out when you're eye look is dramatic. I'm seriously thinking about picking up a couple more of this shade since it is limited edition. I hope NARS will reconsider! I need this shade in my life always. Haha.
Bad Behaviour Cinematic Eyeshadow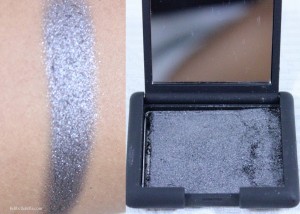 NARS Guy Bourdin Holiday 2013 Bad Behaviour Cinematic Eyeshadow
When I first saw these new cinematic eyeshadows on other blogs I was shocked to see how many of them arrived shattered. Unfortunately mine was partially broken and out of the pan when I got it as well. My shatter wasn't as bad as some I've seen and was quite fixable so I still was lucky. This new formula is ultra powdery and very easy to blend but I think this also contributes to the high potential for shattering or breaking when shipping. I'd suggest picking these up in stores as opposed to ordering them online.
That being said I absolutely love this formula. This shade is described as a "deep pewter". It is ultra smooth and blends nicely on the eye and it is a perfect staple gray eyeshadow. Since these are metallic they can be used wet or dry; the swatch above is one swipe dry so that gives you an idea of the pigmentation.
Coeur Battant Blush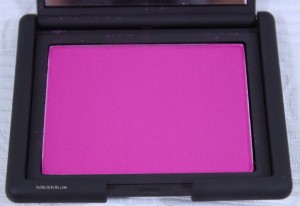 NARS Guy Bourdin Coeur Battant Blush
Holy blush Batman! This shade is definitely not for the weak-hearted…get it? Coeur Battant means Beating Heart in French. This is one of the truest magenta blush shades I've seen in a while. NARS is known for having amazing blushes that are highly pigmented but this one goes above and beyond. You need the absolute lightest tap of your brush in the pan for both cheeks. I suggest tapping off the excess before applying to your cheeks or be prepared to blend this baby out.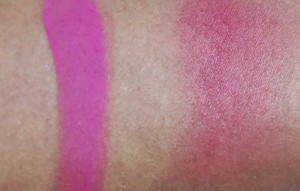 NARS Guy Bourdin Coeur Battant Blush
Again this is one swipe on the left and one swipe blended on the right. This color is absolutely beautiful for brown skin; if you have a lighter skin tone I'd suggest using this blush with caution or picking up another shade because this blush does not play around!
Overall I am so in love with the NARS Holiday 2013 collection and can't wait to check out or pick up additional items in store. The collection is only available online at the NARS website and NARS boutiques until November 1st. On this date it will hit NARS counters and big box stores like Sephora. Sephora also has some exclusive palettes and sets for Holiday that look amazing as well.
Will you be picking anything up from this collection? Happy Shopping!