Girls in white dresses with blue satin sashes,
snowflakes that stay on my nose and eyelashes.
Silver white winters that melt into springs
These are a few of my favorite things!
If you know me in person you know that I'm totally obsessed with musicals, and the Sound of Music is one of my and my mother's favorite movies (I do not approve of the Carrie Underwood remake by the way). I wish everyone would spontaneously burst into song at any moment with a dance number included. Since this is most likely not going to happen I'll take this holiday set from Too Faced instead! Keep reading for more swatches or for a quick rundown check out my Tuesday video!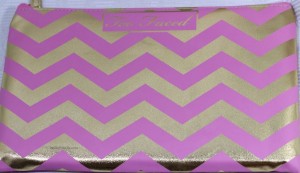 Too Faced A Few of My Favorite Things
The Too Faced A Few of My Favorite Things gift set for holiday 2013 contains an eyeshadow and blush palette, minis of both the Better Than Sex Mascara and Lip Injection Color Bomb, and a pretty pink and gold chevron case with mint lining to hold everything in. Many of the shadows and blushes are named after phrases from the same named song from the Sound of Music. It was destined that I should have this set in my possession!
As you can see below both blushes show up beautifully on darker skin. As for the bronzers – I can actually use Chocolate Soleil in the winter time (keep in mind I swatch on the inside of my arm which is darker than my face) and it provides a very subtle all over contour. If you find this one is too dark for you check out the matte side of the Sun Bunny bronzer; this should be pretty on lighter girls. And if you like to shimmer it up which is so appropriate for the holidays go for the shimmery side of sun bunny!
What do you think of this set? Will you be picking it up or gifting it to someone?